Have you ever asked, what is turmeric and why is it good for me? Well, your Royal Tea New York team is here to help break it down for you and even provide you with some delicious recipe inspiration!
The popularity of functional ingredients
Superfoods. Adaptogens. Functional Ingredients. While these food and drink trends existed before the pandemic, in recent years consumer focus has been even more heavily influenced by the desire to promote wellness from within. Combined with the low-no alcohol trend that is rapidly taking root in 2022, herbs and spices with potential benefits and a ton of flavor are ideal for exciting menu options.
What is turmeric?
Turmeric is a flowering herb native to India and Southeast Asia that has been used as a culinary spice for almost 4,000 years. The bright yellow color and warm, mustard-like flavor and aroma makes turmeric a popular ingredient for food and drink, cosmetics, dyes, and traditional medicine. As a functional ingredient, the main polyphenol of turmeric is curcumin. Curcumin is responsible for turmeric's long history of medicinal use, as well as its characteristic vibrant color. It is best known for its anti-inflammatory properties, making it a great choice for a functional blend.
While curcumin is not easily absorbed on its own, adding black pepper to your turmeric-based recipes will boost its benefits. Piperine, one alkaloid present in black pepper, makes curcumin more readily available in the body. Peppercorns are also native to India and have similarly been used for food and medicine for at least 4,000 years. Since antiquity, it has been a widely exported and prized spice. Piperine is responsible for the pungency and heat of black pepper and is under research for its ability to increase the bioavailability of not only curcumin, but also other compounds such as vitamin B12 and beta-carotene. In terms of functional blends, turmeric and black pepper are the ultimate team!
How to use turmeric in your menu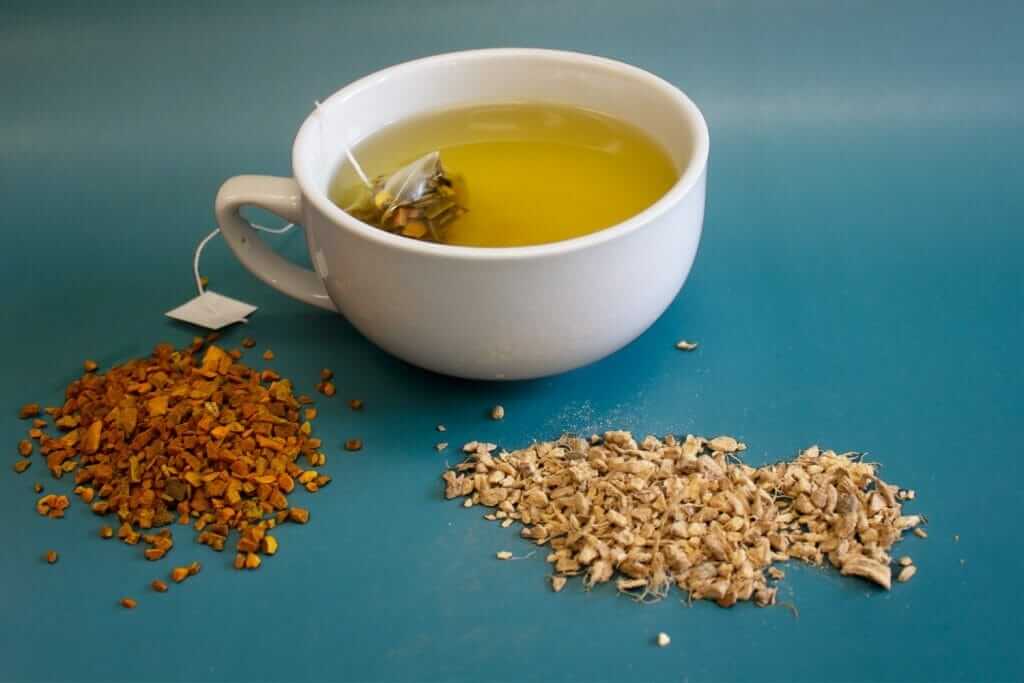 Turmeric's peppery flavor pairs perfectly with a touch of black peppercorn. Add turmeric to your chai blend for a boost of color and depth of flavor! For a caffeine-free option, no menu is complete without Golden Milk. Use your Golden Milk spice blend for an immunity-boosting smoothie, or create a spiced cake perfect for pairing with tea and coffee. One of our most popular herbal blends is Turmeric Ginger, available both loose and in sachets!
Our favorite ways to use turmeric
Golden Spice Blend
Golden Milk or Golden Lattes have become a caffeine-free staple on café menus for their bright color, warming flavor, and lineup of functional spices. Use this spice blend for lattes, smoothies, pastries, and more! Freshly grind your ingredients daily, or store in an airtight container in a dry place for up to 6 months.
Ingredients:
30g turmeric
20g cinnamon
10g ginger
4g cardamom
1g black pepper
Combine and grind spices into a powder with a spice/coffee grinder. You can also add vanilla, sweetener, and other spices such as cloves!
Golden Tropical Smoothie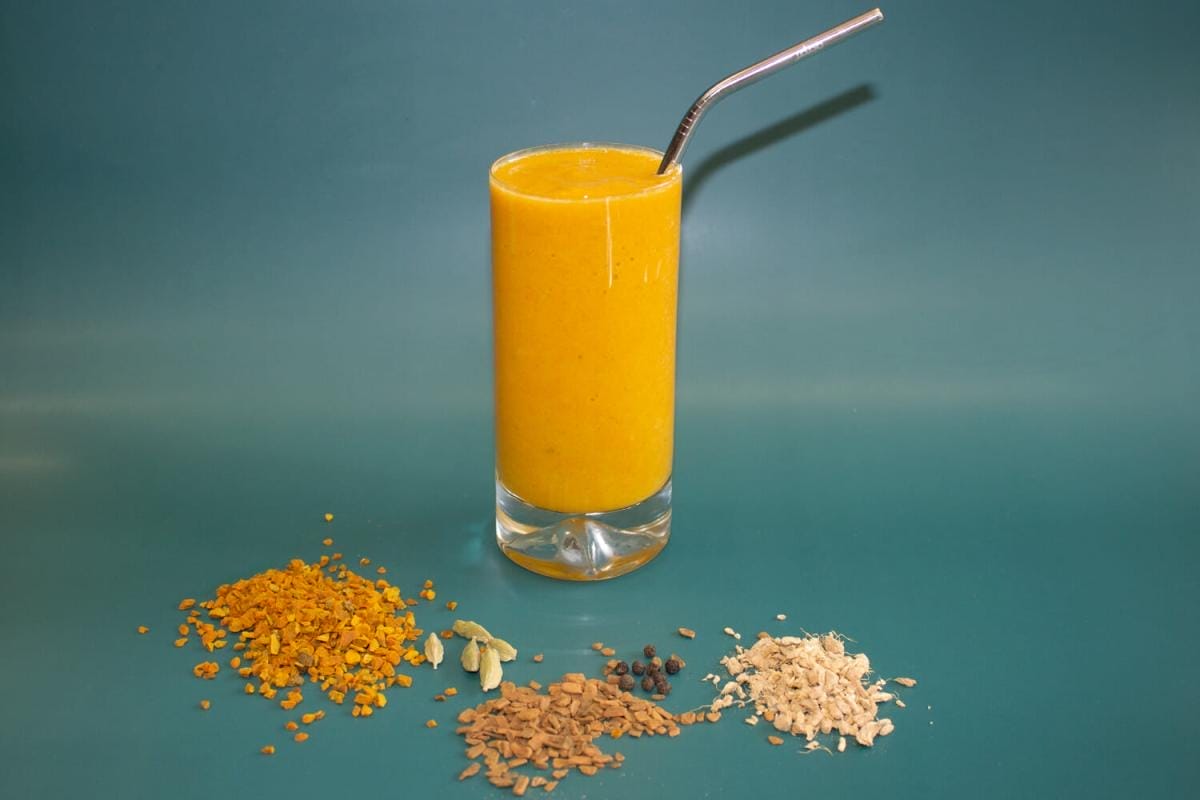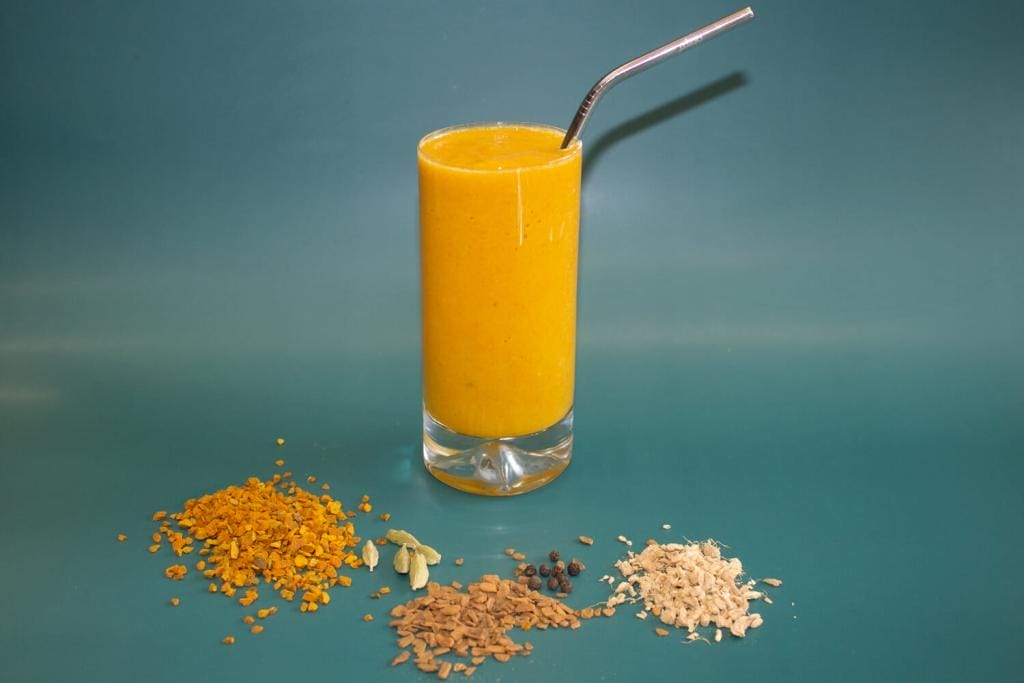 Ingredients:
1 banana
¼ cup pineapple pieces
¼ cup mango pieces
½ cup orange juice
1-2 tsp golden spice mix
Combine ingredients in a blender and blend to desired smoothness. Replace orange juice with milk or plain yogurt for a creamier smoothie. Freeze fruits ahead of time so no ice is needed! I love a spiced smoothie like this during cold and flu season!
Golden Milk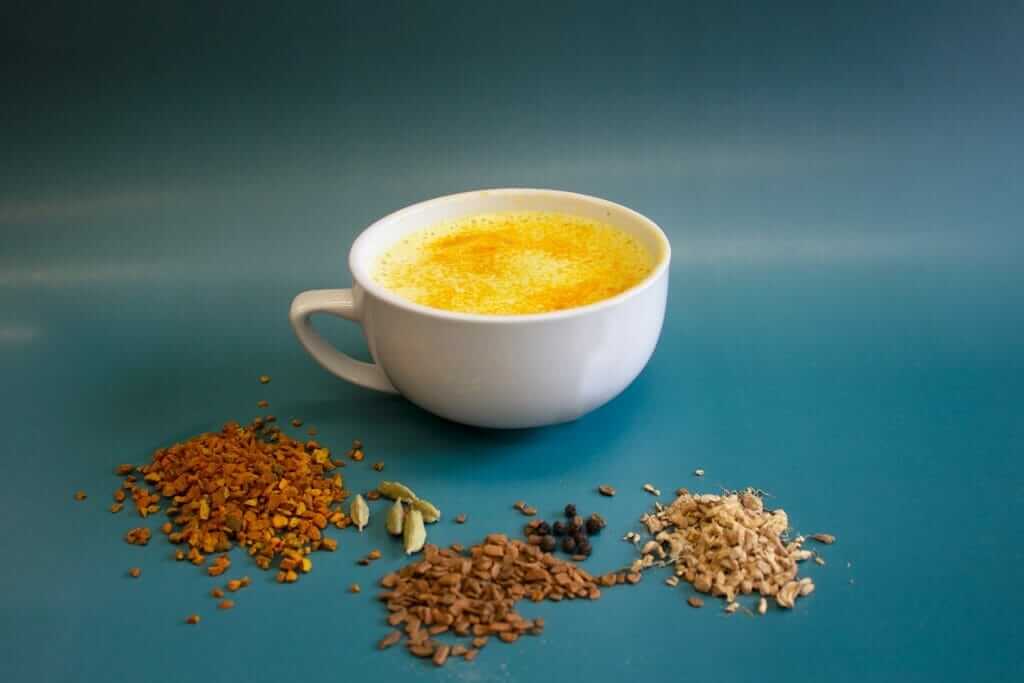 Ingredients:
1-2 tsp golden spice mix
8oz milk of choice
First, combine spice mix and milk of choice and froth to combine. Then sprinkle some extra spice on top if desired. Can be enjoyed hot or cold!
How will you use turmeric?
So, now that you know the history and benefits of turmeric, how will you be introducing this functional powerhouse to your lineup?
Need to purchase turmeric? Contact our tea traders or use the links below!