Ordering from New Jersey
Orders must be placed by 3:00 PM (EST/EDT) for next day shipment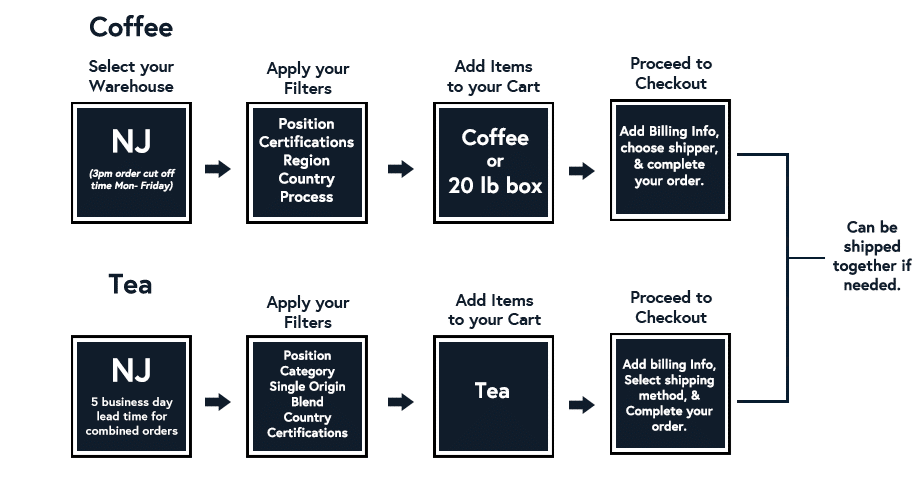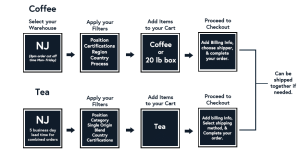 Ordering from Wisconsin
Orders must be placed by 4:00 PM (EST/EDT) for next day shipment
Ordering from Florida
Orders must be placed by 12:00 Noon (EST/EDT) for next day shipment


Order Cut-off Times and Warehouse Hours of Operation
Getting your green coffee delivered when you need it is something that's very important to both of us! Here's a rundown of helpful information for all of our warehouses:
New Jersey Warehouse
Orders must be placed by 3:00 PM (EST/EDT) for next day shipment.
Royal Coffee New York, Inc.
661 Hadley Road
South Plainfield, NJ 07080
Customer pickups from 8:30 AM – 4:00 PM, Monday – Friday.
Florida Warehouse
Orders must be placed by 12:00 Noon (EST/EDT) for next day shipment.
Dupuy Silo Facility
5330 West Fifth Street
Jacksonville, FL 32254
Customer pickups from 1:00 PM – 3:00 PM, Monday – Friday.
Wisconsin Warehouse
Orders must be placed by 4:00 PM (EST/EDT) for next day shipment
Caffeinated Cargo, LLC
1121 Larsen Road
Fort Atkinson, WI 53538
Customer Pickups by appointment. Please call 920-568-9800
Shipping Options and Information
Once you've placed a full-bag order with your salesperson, we want to make sure that the shipment receives any special services you require and that it arrives as quickly and safely as possible to your delivery location. We enjoy discounted freight rates from several carriers, and we're happy to share them with you! These rates are most cost-effective when shipping a full pallet of coffee (usually 10 bags). Of course, if you already have an account with a specific trucking company, just give us your account number to put on the paperwork. In case you didn't know, customer pickups are welcome at all of our warehouse locations, too.
Questions?
Other Shipping Details
– Update your delivery address as necessary to make sure we are shipping to the correct location.
– Let us know if you need any special services such as lift gate, short truck, residential delivery, etc. so they can be set up accordingly. Although these services cost a little extra, they can go a long way toward giving you a smoother delivery experience.
– LTL orders shipping with a trucking company are palletized and shrink-wrapped to protect your coffee (strapping is also available for orders leaving from FL and WI). A cardboard slip sheet will separate organic and non-organic coffees if they are shipping on the same pallet.
– Customer pickups can be palletized or floor loaded, let us know what you prefer. If floor loading is selected, please be prepared to assist warehouse personnel to get the bag(s) into your vehicle.
– Our shipments are made on a FOT (Free on Truck) Warehouse basis. This means Royal Coffee NY will pay for the cost of preparing and loading your coffee order onto the truck. Ownership of the coffee transfers to you, the buyer, at that time. Shipping charges and insurance coverage from our warehouse to your location are for the buyer's account.
– Orders shipped from our NJ and FL warehouses are "Freight Collect" and freight charges need to be paid at the time of delivery. If your order ships from our WI warehouse, Caffeinated Cargo will select the best trucking company & rate for you and then send an invoice for the freight cost.
– When your order is delivered, please check the shipment thoroughly. If your order arrives with damaged bags, incorrect bags, or any other problems, please call our office immediately before the truck driver leaves. We will assist you with any notes you need to put on the delivery receipt.
– For customers placing larger orders (150 bags floor loaded or palletized), we are able to offer spot freight rate quotes from several carriers for dedicated, full truckload service. Please speak with your salesperson as early as possible before the requested shipping date as this service can require appointments with both the trucking company and our warehouse.