Seed and Leaf to Cup @ Coffee Fest NY
This course is a focused overview of Coffee and Tea basics from origin to finished product This class is designed for those just entering or discovering the world of coffee and/or tea! During this class. wee will explore the processes that brings the seeds we roast and leaves we brew from around the world to your cup. We will explore agricultural practices, processing, roasting, brewing, and tasting. We will also dive a bit into the history of the coffee bean and tea leaf, as well as taste a variety of teas and coffees!
This class is taking place at New York Coffee Fest. A tradeshow and event taking place March 8th-10th at the Javits Center in New York City.
Royal Coffee New York, The Lab and Royal Tea NY can be found during the show at Booth #2438 & #2436,
Coffee Fest is a specialty coffee event that attracts owners, operators, and anyone interested in growing their specialty coffee & tea business career. Before the first shot is pulled or bean is roasted, many attend Coffee Fest to get the start-up education, resources and access to companies they need to make their cafe or restaurant opening go smoothly. For more seasoned coffee professionals, Coffee Fest is a source for networking, deepening existing supplier relations, finding new products & services & education to build on what they already know. Coffee Fest and its network of resources brings expert advice to help you evolve your business, discover what is trending and relevant, and help you with whatever you need in your business now.
Registration and more information can be found here. Use Coupon Code #89699 at checkout to save 50% on registration.
Please email education@royalny.com if you have any questions about this course.
Cancellation Policy:
If you are unable to attend this class after signing up, you will receive a full refund only if we are able to fill your spot.
Seed and Leaf to Cup @ Coffee Fest NY
When:
March 8, 2020 @ 8:30 am — 10:00 am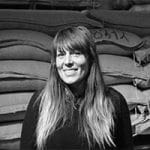 Instructor: Zoey Thorson
Coffee Pro/Veteran Educator. Over 10+ years of teaching a wide variety of coffee disciplines to a diverse student base around the world. Q-Grader and SCA Authorized Specialty Trainer. In 2019 Zoey became the Director of Education for The Lab by Royal NY. Zoey is friendly, approachable and informative with a vast knowledge base...come take a class at The Lab and see for yourself.
05:00
Minutes
Left to Checkout