Royal Tea New York has consistently offered 3 different matcha teas for the past few years, and we're excited to announce a new ceremonial grade matcha! We're adding Organic Matcha Kakitsubata to our offerings list, a spectacular matcha sourced from the Shizuoka Prefecture in Japan. This delectable tea is produced by our friends at Osada Seicha. It would be a perfect addition to any café or tea house menu! Senior Tea Trader Caitlin Normann is here to tell you all about our new matcha, its producers, and how it's made.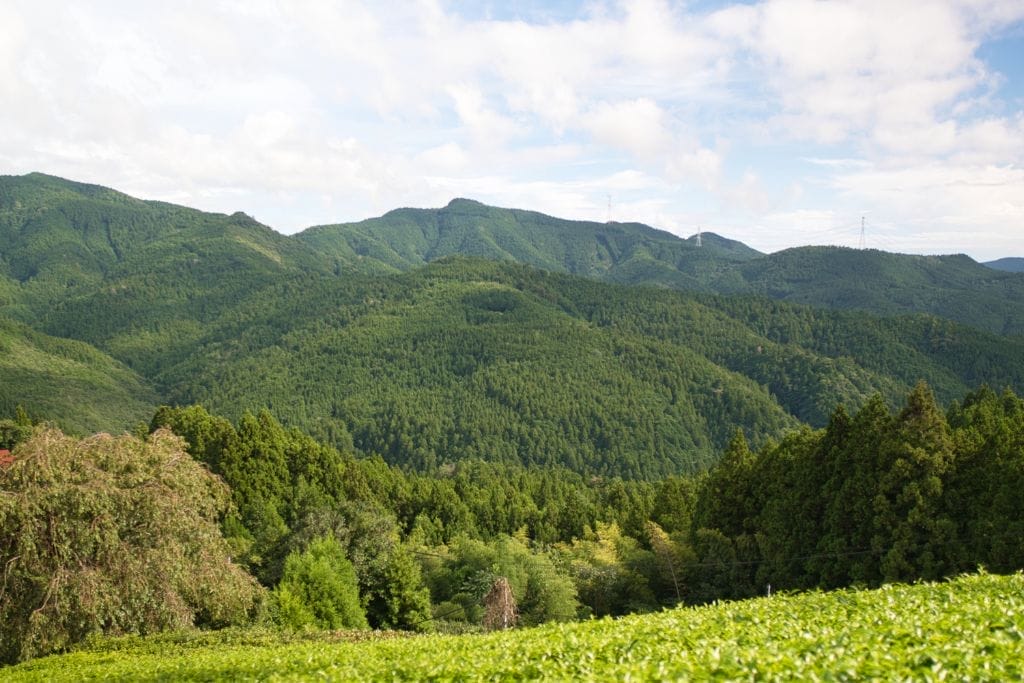 Shizuoka Prefecture
The Shizuoka Prefecture is situated on Japan's Pacific coast and is home to the infamous Mt. Fuji. This region produces about 40% of Japan's tea, and Shizuoka City is recognized as the green tea capital of the country. In 1908, Hikosaburo Sugiyama bred Yabukita here, the first Japanese tea cultivar. It's now the most commonly used cultivar in Japan! Interestingly, the Yabukita mother tree is still alive today and considered a national monument. While Shizuoka primarily produces Fukamushi Sencha, the Prefecture is also known for producing other teas. These include bancha, kabusecha, and of course, matcha!
Osada Seicha & Isagawa
In 1947, 1st generation tea producer Osada Koichi founded Osada Seicha, now run by Osada Natsumi. Osada Natsumi is a 3rd generation tea producer and current president of the company. With over 20 years of experience, he holds multiple awards for tea production and 8th-dan in national tea appraisal.
The company has partnered with organic growers since 1990, introducing organically grown tea to the Japanese and global markets long before the implementation of the Organic JAS Certification in 2001.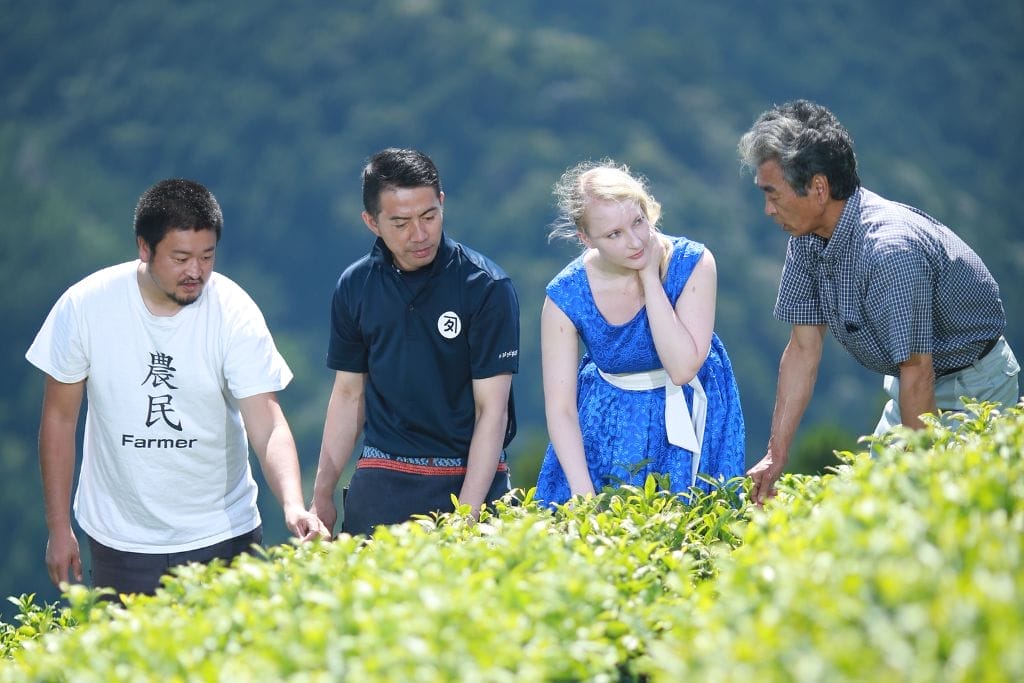 In the mountains of west Shizuoka, our Organic Matcha Kakitsubata is cultivated at the Isagawa "organic valley" tea cooperative. At approximately 400m in altitude, the tea grown here is naturally shaded from the slopes of nearby mountains and the ever-present fog. Markedly, Isagawa growers only produce organic tea to avoid polluting the surrounding environment.
Producing Matcha
There are many cultivars used in this ceremonial grade matcha. These include Yabukita, Tsuyuhikari, Kanayamidori, Okumidori, Saemidori, and Sayamoakaori! Once the tea leaf is harvested in Isagawa, it's transported to Osada Seicha's post refining tea factory in Mori-Machi. First, the leaf is fed up a shaft into the main body of a bead mill where the tencha is smashed by multiple small ceramic balls. Cold water flows around the outside layer of the body of the machine to prevent it from overheating.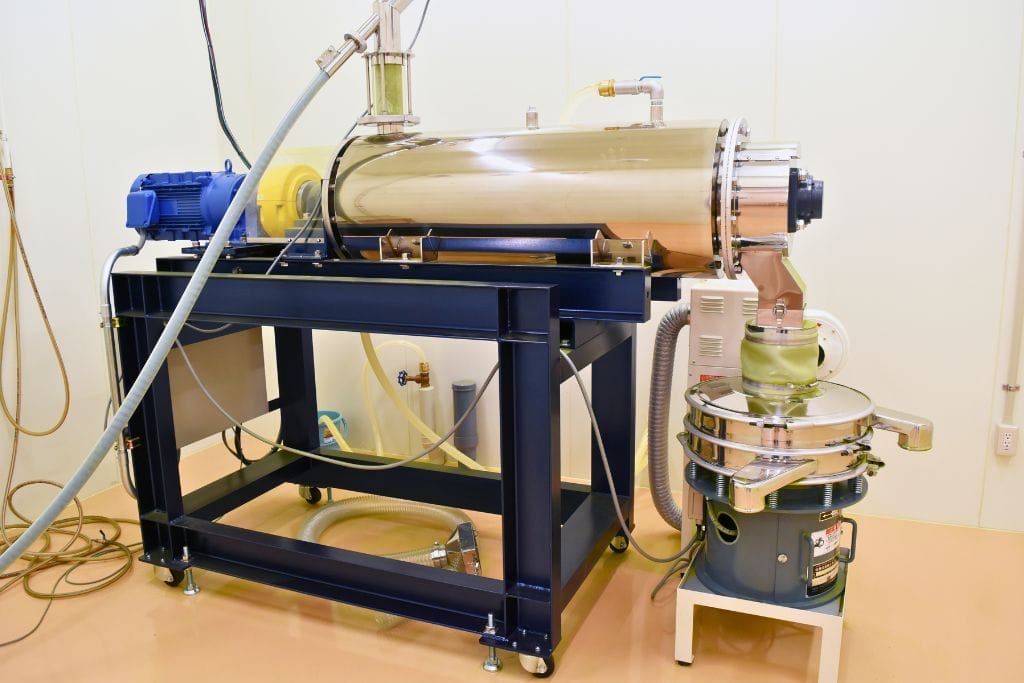 As the leaf is processed, matcha pours out at 10-15kg/hour. This is much faster than the stone mill method, which only produces about 40g/hour. Though stone milling tends to be promoted as a method used for higher quality matcha, bead milling generally produces a creamier cup. In fact, the slightly larger particle size results in less clumping.
In the Cup of Organic Matcha Kakitsubata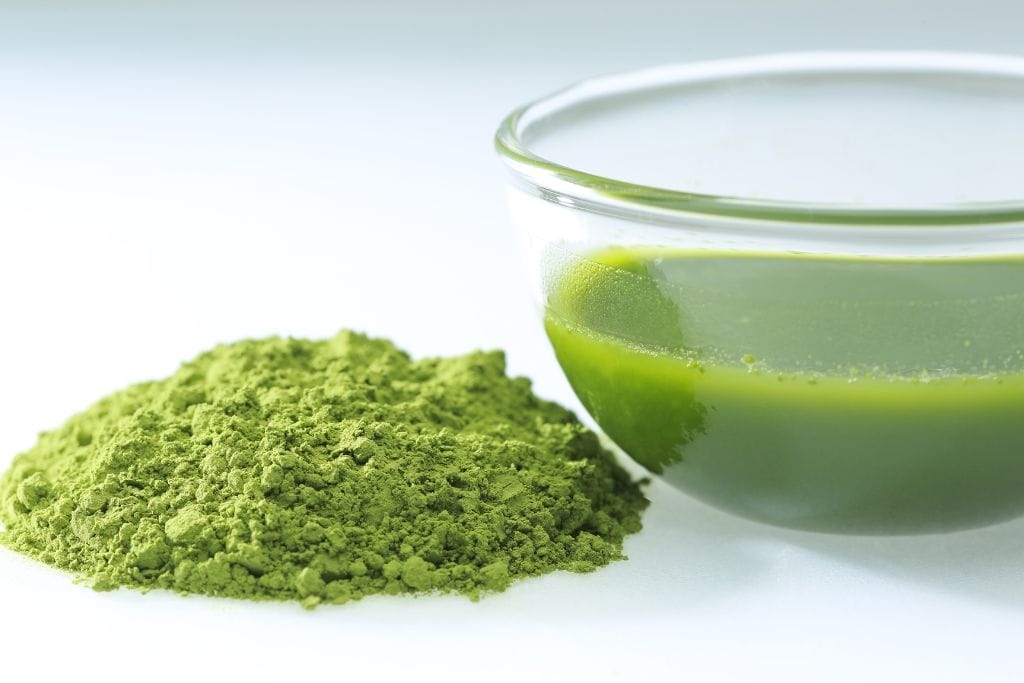 Organic Matcha Kakitsubata ("Japanese Iris") is vibrantly green and perfect for ceremonial and culinary applications. This ceremonial grade matcha is harvested in the spring and very lightly steamed, has a roast level of 7, and is ground using the bead milling method. Annual production of this tea is approximately just 4,500lbs, so we at Royal Tea are incredibly proud to provide you with this limited offering!
At first sip, this matcha has a wonderfully creamy mouthfeel. There are notes of whipping cream and umami with a floral-like sweetness on the back end. Bold and fresh, this matcha would perform well for a traditional ceremony yet simultaneously make an outstanding matcha latte.
Shop Organic Matcha Kakitsubata