Have you ever considered what goes into a good cup of tea? While we're all familiar with pure teas, we know that the options for tea blends are infinite! At Royal Tea New York, we source more than tea: we also import the most popular blending ingredients out there. Whether you're craving something hot and spicy or sweet and decadent, there's a perfect blend waiting for you. From cinnamon to lavender to spearmint, Caitlin Normann has got you covered!

How We Source Ingredients
We select our tea ingredients like we do our pure teas: cupping for quality. Spices and herbs can vary year over year and season to season. In fact, it's not unusual to receive a ginger sample that isn't spicy enough or a lavender that's too dull! To ensure our house blends are consistent, we compare our current lots to new offers and carefully select the best ones.
How to Use RTNY Ingredients
Currently, we carry over 75 different components for tea blends, ranging from conventional to organic. If you're looking for a place to start, here are a few ideas on how you can use our ingredients:
For Sweet Tea Blends
Fresh and fragrant, SPEARMINT is a common component used in our ever-popular Moroccan Mint. It's also a great choice for digestive blends to aid in soothing the stomach. Spearmint steeped by itself is also a wonderful choice, with cooling notes of menthol and a very mild sweetness.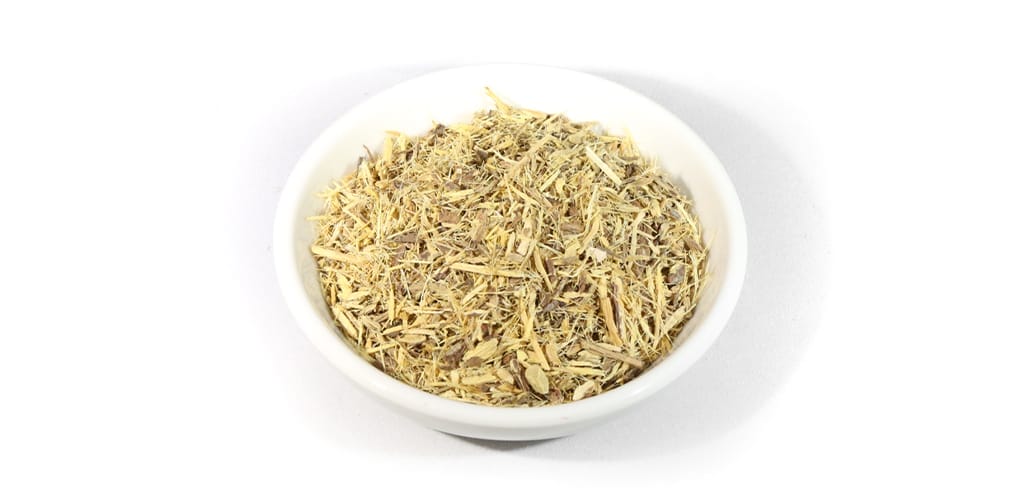 Does your tea blend need an extra boost of sweetness? LICORICE ROOT is a fantastic choice to bump it up a notch. We use licorice root in a few of our savory blends, like Peppermint White Chocolate and Root Beer. It's a great way to add "sugar" without the calories, and a little bit goes a long way.
For Spicy Tea Blends
CINNAMON is a popular ingredient for chai, holiday, and wellness blends. High in antioxidants, cinnamon is thought to protect against disease and inflammation—not to mention its warming quality certainly contributes to a cozy cup. If you're looking for a spice that also adds a bit of sweetness, cinnamon is your winner!
TURMERIC ROOT is rich in curcumin, which gives the ingredient its characteristic golden-orange hue. Curcumin is said to provide many health benefits, from aiding inflammation to reducing anxiety. It's a key ingredient in our Organic Turmeric Ginger blend, and it would go well in any blend with a mix of spices. This component can also be ground and added to steamed milk, producing the ever-popular golden latte.
For Fruity Tea Blends
If you're crafting a fruity blend, HIBISCUS is a must-have component! Tangy, tart, and refreshing, this flower is commonly used for a citrus-forward profile. When steeped, the cup color can range from a vibrant red to a pale pink, depending on the concentration. This will give your blend some serious depth and carry the rest of the flavor notes to the finish line.
Though less powerful than hibiscus, LEMONGRASS is still an excellent way to add flavor to tea blends. This herb brews to a pale yellow color and adds a lemon-forward flavor. We use lemongrass in our Jasmine Citrus blend, which is equal parts floral and citrus. Lemongrass best complements blends with a green tea base, but it also mixes well with white tea and less oxidized oolongs.
For Floral Tea Blends
Are you looking to create your own lavender earl grey? Or do you maybe need an extra boost of floral flavor for your blend? LAVENDER is the perfect ingredient! Fresh, herbaceous, and sweet, this flower makes a great addition to a blend while adding a pleasing visual with its purple-blue hue. You can also use it for a house-made syrup to level up any café beverage.
Not only are RED ROSE PETALS the perfect pop of color for an eye-catching blend, they also pack a punch in both aroma and taste. Since you don't need a large concentration, this is definitely a cost effective ingredient. Rose petals are also said to be good for your skin and are commonly used as garnish in specialty drinks.
Final Thoughts
These are just a few of our favorite ingredients for tea blends; the options are seemingly endless! Check out the rest of our offerings to get started on crafting your very own signature tea blends.