Welcome to our July edition of Market Watch! Andrew Blyth & Tom McLaughlin are here to provide you with the latest insight into coffee exports and prices as of July 2023.
Coffee Prices Continue to Decline
July has seen coffee prices weaken. After trading as high as $1.8420 on June 16th, futures prices traded to a 6-month low of $1.5505 on July 18th. Once again, we have some conflicting data from the global coffee markets, making this price decline very interesting.
Brazil Coffee Exports Lowering
The below chart highlights Brazil's monthly coffee exports showing that numbers have been declining every month since December 2022 on a y/y and 5-year average basis. So, it's very surprising that with Brazil's significantly lower export numbers, the "C" market price continues to weaken. Why is that?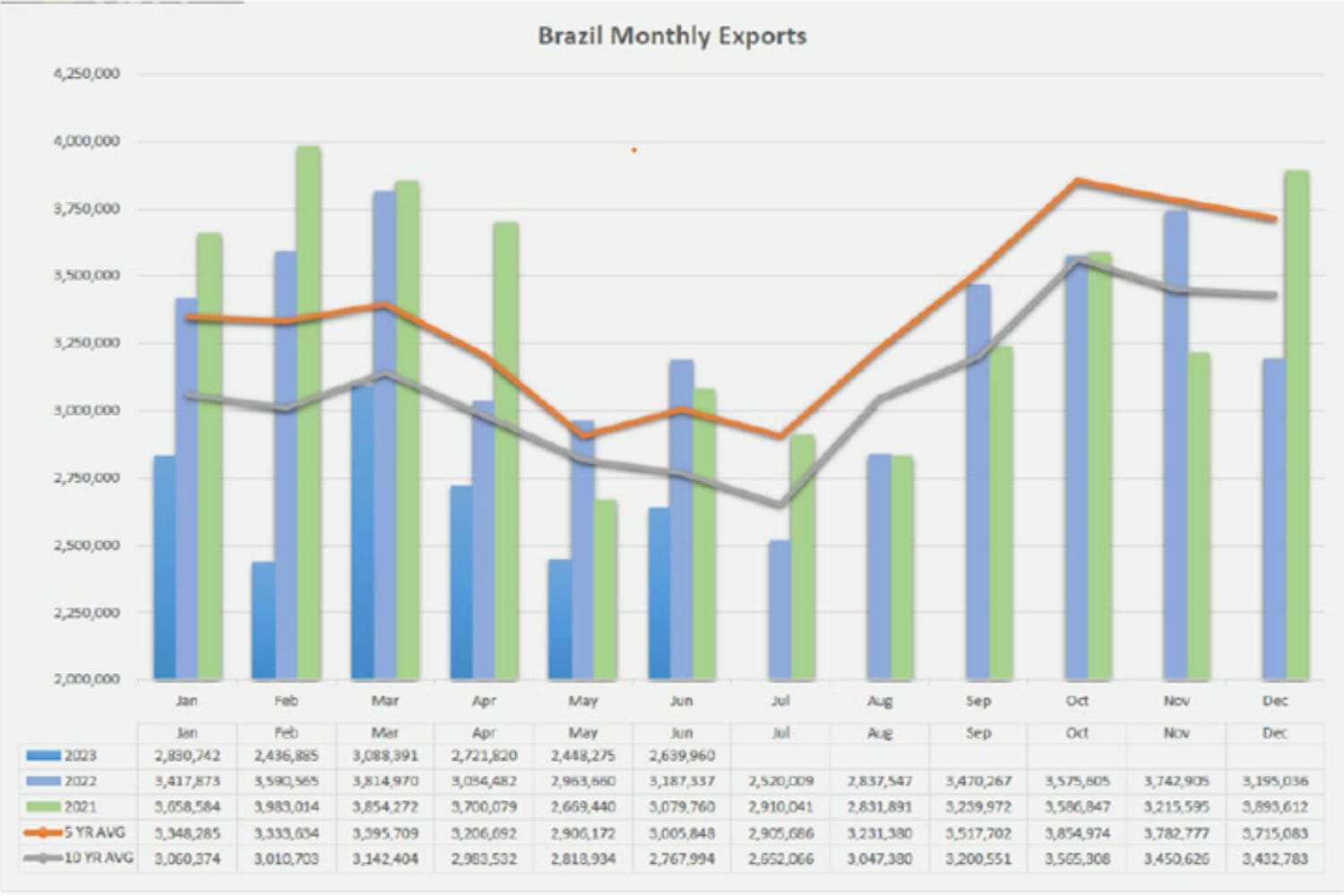 Classic supply/demand fundamentals would indicate that lower supply (low exports) and low prices would mean the demand side of the equation is to blame. In fact, a Bloomberg article last month mentioned that there were some large coffee roasters delaying large forward purchases of green coffees, primarily in Brazil. With high finance costs/interest rates, carrying large amounts of coffee m/m can be very expensive. It seems that paring down excess inventory (accumulated post-pandemic) is the tactic that these large roasters are using.
Changes in Global Coffee Exports
Brazil is not the only place with significantly lower export numbers this year. Colombia continues to have a weak export year, mainly due to weather issues impacting production. Interestingly enough, this year's Colombian differentials have noticeably softened. June Colombian exports were down 20% y/y to 748,000 bags. Honduras, on the other hand, saw June exports rise 37% y/y to 1.004 million bags. It's not often we see Honduras outpace Colombia!
This price decline to 6-month lows may have caught some exporters and producers off-guard. Any decent rally may be met with solid selling, which can prevent the market from rallying back to the $1.80's or $1.90's. Since the current Brazil harvest has been progressing well, this indicates that there will be coffee available to hit the market. Marco Ferreira, president of Cecafé, actually says the outlook for the 2023-24 crop is good and expects there to be enough production to meet demand.
The London robusta market has also been very interesting, with RCU'23 trading this past week at over $2600/metric ton. This is well below the contract high of 2797 while still at 15-year highs. Vietnam's General Dept. of Customs reported that Vietnam coffee exports in the first half of this year fell -3.1% y/y to 1 MMT. Also, ICE robusta coffee warehouse stocks were at 5422 lots, the lowest recorded number since records were kept beginning in 2016. The robusta price could very well remain steady at these high levels.
While it is difficult to predict prices, as soon as we get past this current Brazil harvest, all eyes will be on the 2024-25 Brazil crop. Many in the industry say it could be a record! The forward curve of futures prices has gone to contango (discount) again, beginning with Z/H, which is another telling sign.
What does this mean for your green coffee purchasing needs?
It means that despite a decline in coffee exports from the two most important producing countries for arabica coffee, Brazil and Colombia, the market is trading close to 6-month lows indicating that now is an ideal time to purchase spot and forward needs.
As of today, we recommend looking at your green coffee needs through at least the end of 2023. The low "C" market conditions, availability of new crop coffees, and reasonable differentials are the perfect recipe for green coffee purchases. Reach out to your trader to review pricing and availability or to explore our comprehensive forecasting tools to make the process fast and simple.
Most importantly, this time of year's green coffee inventory is at its most abundant and diverse. A wide variety of new crop offerings from all over Central America, as well as new crops of Ethiopian and Kenyan coffees have kept our cupping tables full. Contact us, and let's talk about it! Give us a call, order some samples, or ask for price quotes, because now is the time to prepare for the rest of the year.