Goals of the RNY Lab Community Meeting:​
1. To create a space to troubleshoot current challenges.​
2. Establish a greater sense of togetherness.​
3. To share information to help people sustain their businesses, lives, and passion for coffee and/or tea.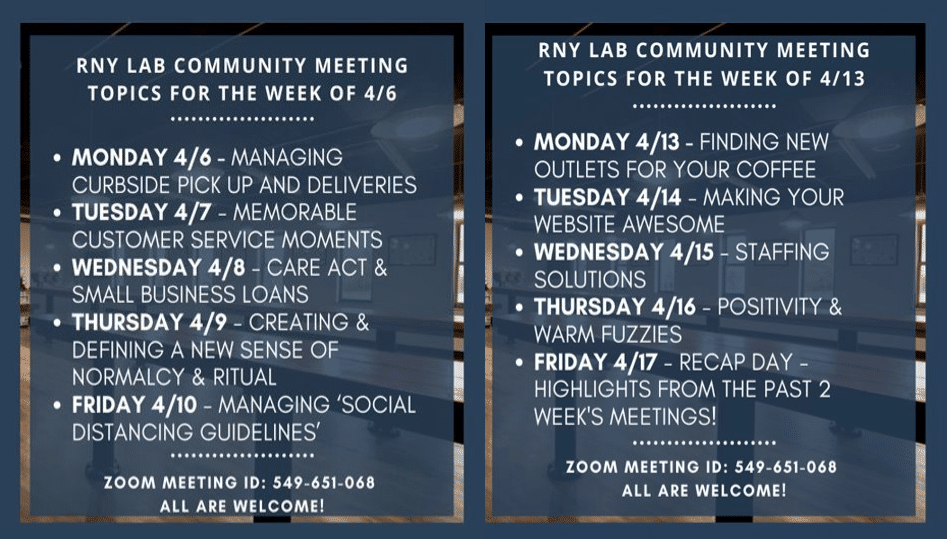 Two weeks ago, we at the Lab created the RNY Lab Community meeting in an effort to better support our Coffee and Tea Community during these challenging times. We have covered a range of topics and want to ensure that even if you were unable to attend, the information from the meetings is accessible. In this blog, we will review some of the highlights from the past 2 weeks.
Managing Curbside Pick Up & Deliveries:
Communication is key to ensure the success of either of these methods in serving and retaining customers. This means clear communication cues at the physical location in the form of signage and/or a table out front that looks inviting, clear and consistent information about the process, and hours of operation on your website and social media.
Doors Open – This may seem silly, but the stress of touching anything in particular a door can seem stressful these days. Also, having your doors open is a visual reminder and invitation when people pass by that you are open.
Add-on ​​Pantry and Bulk Items – No one wants to make multiple trips out of their house these days. Help support this by offering larger coffee bag sizes and maybe other items like whole loaves of bread, bags of cookies, even fruit and veggies. You can even coordinate with other local shops to collaborate on this. Adding discounts for purchasing more can help here as well.
Clear & Easy Menu For Ordering – We are seeing a lot of folks go the 'call in your order' route. This helps to serve 'the human connection' that people are looking for these days. Whether you are using an app or the telephone for ordering, having a clear, regularly updated menu on both social media, your website, and at your physical location can help ensure people keep ordering. You don't want your customers to miss out because they were unsure if you were open, or what you are selling these days, as well as feeling confident that they can get in and out of your location as quickly and therefore safely as possible.
We also created this easy this 'how to' blog post for managing different options for service during these times.
Memorable Customer Service Moments:
Communication!​ Once again, in our current state of limited human interactions, it is important to utilize the tools available to communicate with our customers. Specifically, it is best to create two-way communication or personalized communication when possible. This can take the form of social media engagement, personalized notes on orders being shipped out with contact info for follow up, or it can be whatever you want it to be, as long as you are opening the doors for chatter.
Here are two very 'memorable customer service moments' from the pandemic…
Grocery Store 1: Clearly marked cues as to where to wait, with a person at the door offering you a mask, gloves and guidance before you enter. This person also offered hand sanitizer on your way out. The amount of customers in the store was very limited, which it made it feel quite safe and easy to navigate. There were also a good amount of staff in there to guide you if needed. I'll be back!
Grocery Store 2: Prior to arrival I was aware that we were supposed to wear gloves and that no more than 10 people were allowed in the market at a time. Upon arrival there was a table outside the door with 3 gloves loosely spread on it (I was unsure if they were used or not) and a sign saying 'no more than 10 people at a time.' I was unsure if I was supposed to take the gloves or not, or if I could enter or not. It looked to be around 10 people in there, so I waited at the open doorway… No one even nodded at me. I didn't know if it was ok to enter. There wasn't a lot of space inside, and I was stressed out the whole time as to whether I was violating the 6′ social distancing thing. I got my groceries and left. Not to return.
CARES Act & Small Business Loans:
Unfortunately, a lot of this information is no longer appropriate, due to the cap being hit for federally backed forgivable loans under the Payroll Protection Plan.
Some other resources still available under this act are:
Employee Retention Tax Credit:​ If you did not take advantage of the SBA PPP, you are eligible for this credit if:​
1) Your operations were fully or partially suspended due to COVID-19​
2) Had a decline of at least 50% of gross receipts
3) Have fewer than 100 employees.
There are a few more elements of the criteria for this, but these are the main three. If you qualify you are entitled to Tax Credit of 50% 'qualified wages' or deferment of payroll taxes until 2021. Max wages capped at 10k​. Credit can be immediately taken against employer portion of SS Taxes. IRS Application and more information on this, can be found here.
Economic Injury Disaster Loan: This is an advance of up to $10,000. This advance will provide economic relief to businesses that are currently experiencing a temporary loss of revenue. Funds will be made available within three days of a successful application. This loan advance will not have to be repaid. Apply for this advance here.
Federal Pandemic Unemployment Compensation (FPUC) Program: This for individuals who are collecting certain UI benefits, they will receive an additional $600 in federal benefits per week for weeks of unemployment ending on or before July 31, 2020. Also, this allows for individuals to receive up to 13 weeks of additional benefits after they have exhausted the current limit for unemployment.
Creating & Defining A New Sense Of Normalcy & Ritual: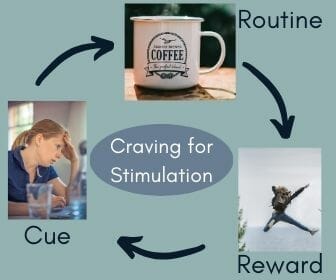 For this one, you can check out our blog post on the topic!
Finding New Outlets For Your Coffee:
Be Creative and just get out there. We have heard stories of people just going in their regular grocery stores and becoming a vendor there because they happened to be out of coffee when the person stopped by. Another person set up a cold brew growler stand at a trailhead with great success. Right now, everyone is a bit more open to changing things up so everything is worth a try. Local breweries, markets, restaurants – just ask! People want to purchase things all at once, so why not see if that local restaurant would be willing to sell bags with their dinner orders? Even larger companies are empowering managers at a local level to purchase items to fill their shelves.
Making Your Website Awesome:
Big Takeway – Building a website is like building out a brick and mortar location and… Keep it simple!
Step 1: Review or Create a clear branding guideline​
Step 2: Make a Plan​ & Consider a template-based site builder​
Step 3: Keep things clean & simple​ & Make it easy to navigate​
Step 4: Market it – Utilize social media​!
Here is our basic 'how to' blog post on creating a website.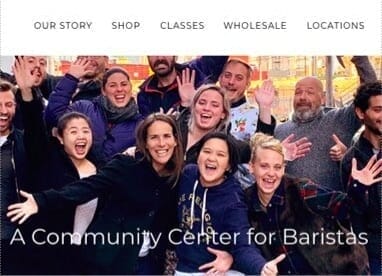 Staffing Solutions:
Key Take Away: Transparency & Inclusion Are Key!
These are hard times, most likely your staff's hours are being cut and/or people are being laid off. Tips are also at an all time low. At this point most of us are already in it and have made a plan and/or executed a plan to adjust staffing. Some things to keep in mind after making the adjustments are:
1) Making sure to stay in touch with everyone (working and not working) keep them all the loop as to how things are doing and check in on them. Be frank and honest, so people can plan accordingly.
2) If possible provide what resources you can.

This could mean actual money, virtual tip jars, forwarding local resource info for your city, providing other things if you can such as CSA shares, or coffee.
The other thing to consider is what you plan on doing for rehiring later and how you are communicating this. It's hard to predict how things will look once all of our doors are open again, but that doesn't mean you can not plan for it. Let your laid off staff know how 'rehiring' will go. Are you hiring them all back at once for limited hours? Person-by-person based on longevity of employment? Do people have to reinterview? Make a plan for a slow build back and communicate it. This will allow them to plan accordingly.
Positivity & Warm Fuzzies: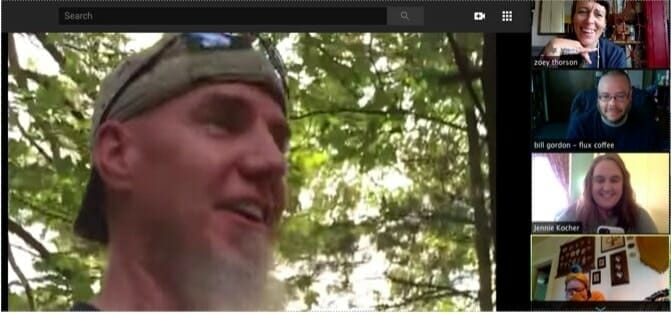 All of the presentations from these meetings are linked at the end of this blog for reference.
For this week we will be hosting Special Guest's All Week.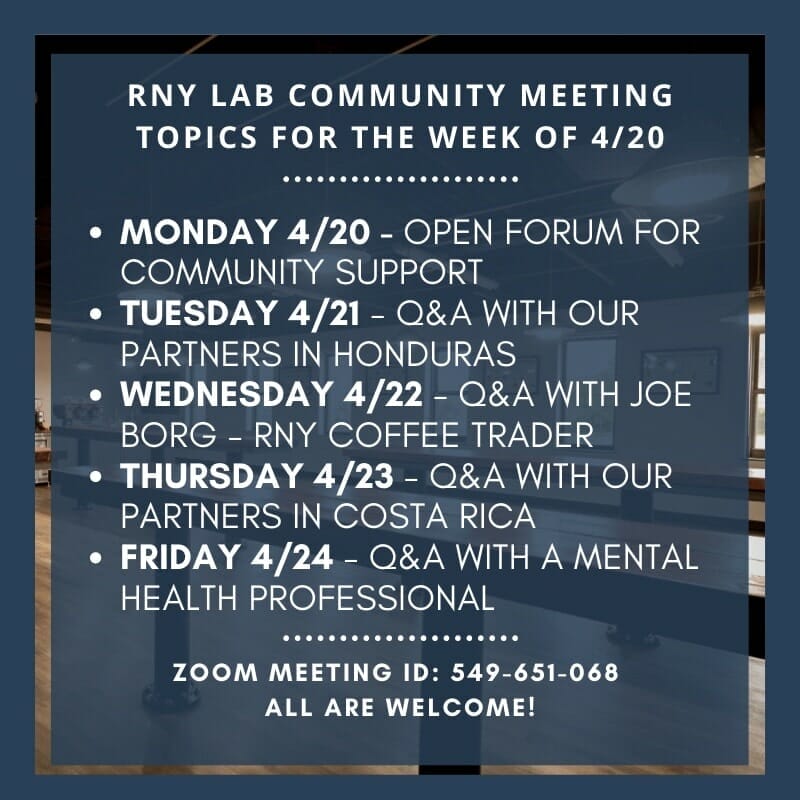 Monday 4/20 – For this meeting YOU ARE THE SPECIAL GUEST!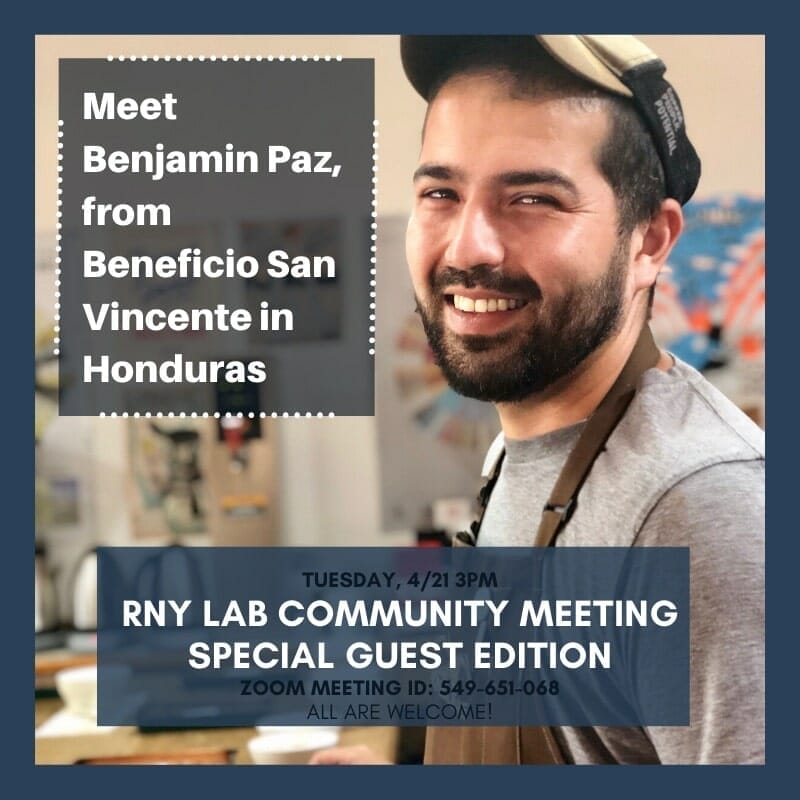 Tuesday 4/21 – Benjamin Paz from Beneficio San Vincente in Honduras will be joining us. Honduras has had the most regulation on movement in terms of coffee-producing countries during the pandemic. Ben runs a mill and exporting business out of the Santa Barbara Region in Honduras. We want to hear how COVID-19 has been effecting coffee production and movement in Honduras. Join us to learn more about coffee in Honduras past present and future.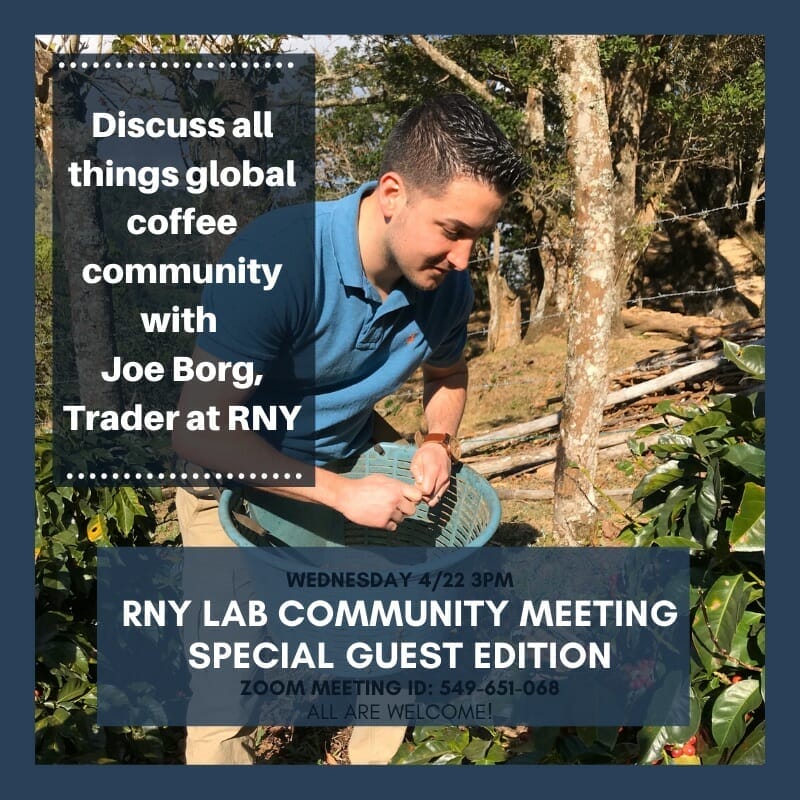 Wednesday, 4/23 – Joe Borg is a Trader at Royal NY, and he will be available to answer the tough questions about coffee trade in the current situation. If you are curious about how the pandemic is effecting coffee as a whole this is the meeting to tune in to!​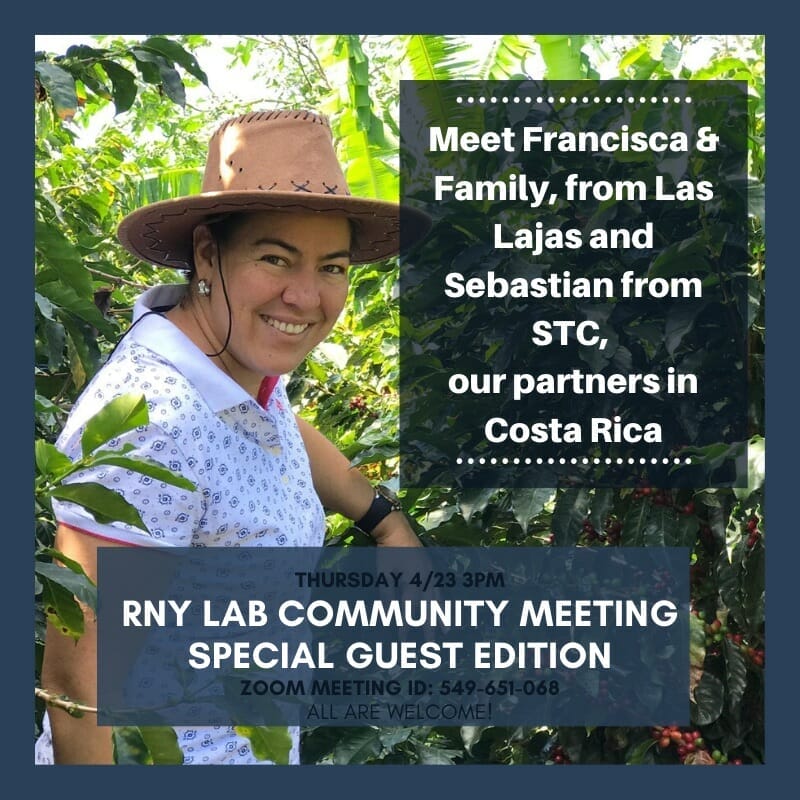 Thursday, 4/23 – Fransisca & Family and Sebastian from Costa Rica will be joining us. This meeting will be a unique opportunity to speak with folk from all along the supply stream, from producer to exporter to trader. We can chat COVID-19 or just chat about all the unique processing experiments going on in Costa Rica!
Friday, 4/24 – Jonathan Shaffer, PhD – Jonathan is a mental health professional out of Denver Colorado. He teaches at the university, does extensive research and has a private psychotherapy practice. Jonathan will be chatting about 'mindfulness' and how to take care of your mental health, as well as supporting your staff's mental health during the pandemic.
Zoom link is posted everyday on our instagram page (@rnylab) at 2:30, Monday – Friday.
We hope to see you there!
​