You're probably no stranger to the pumpkin spice craze, but did you know you can use tea to make pumpkin spice syrup? Read on to learn how Tea Trader Angelica Cordero uses Royal Tea NY Pumpkin Spice Puer makes it and uses creative recipes with this festive flavor!

You Read Right: It's Time for Pumpkin Spice
For twenty years, pumpkin spice drinks have taken over café menus in the fall. With September just around the corner, start stocking up now and plan how this seasonal favorite will be featured on your menu. Suprisingly, many chains add this sweet treat to their lineups as early as mid-August! Without a doubt, it's never too soon for the call for fall!
At Royal Tea NY, we offer this famous flavor through our Pumpkin Spice Puer. Produced in Yunnan, China, the high body of aged puer tea is perfect for the grounding, earthy base reminiscent of autumnal aromas. A blend of shou puer and malty Assam, this black tea has generous amounts of cinnamon, ginger, clove, and cardamom. The flavors of pumpkin pie and vanilla crème are the final touches to create a decadent drink on a crisp, autumn morning.
This fall, we wanted to share some fun and easy recipes for Pumpkin Spice Puer. Yes, you can of course brew it for a refreshing cup of tea, but you can also use it to make pumpkin spice syrup! Tea syrups are appearing on café and bar shelves as an easy additional ingredient for flavorful and sweet drinks. If you find this as exciting as we do, read on for our syrup recipe as well as other innovative ideas to spice up your menu.
Royal Tea New York Recipes
Hot Tea
Steep 3 grams of Royal Tea New York Pumpkin Spice Puer in 12oz of 195°F water for 5 to 6 minutes. Enjoy it by itself or with honey and milk. Truly, this is perfect for when the mornings start to get chilly!
Iced Tea
Cold brew 3oz of Royal Tea New York Pumpkin Spice Puer per gallon of cool water for 8 to 12 hours. This beverage is refreshing and seasonal, even when the weather is still warm.
Pumpkin Spice Syrup
Ingredients:
1 cup water
1 cup sugar (for a richer syrup, use 1.5 cups!)
10g Royal Tea New York Pumpkin Spice Puer
Instructions:
Heat water and tea in a pot until simmering.
Add sugar and stir into water until just melted. Remove from heat and continue steeping tea in the mixture for 15 to 20 minutes.
Strain syrup into airtight containers and store refrigerated for up to 2 weeks. Use in lattes, sodas, cocktails, and desserts!
Dirty Pumpkin Spice Latte with Hot Honey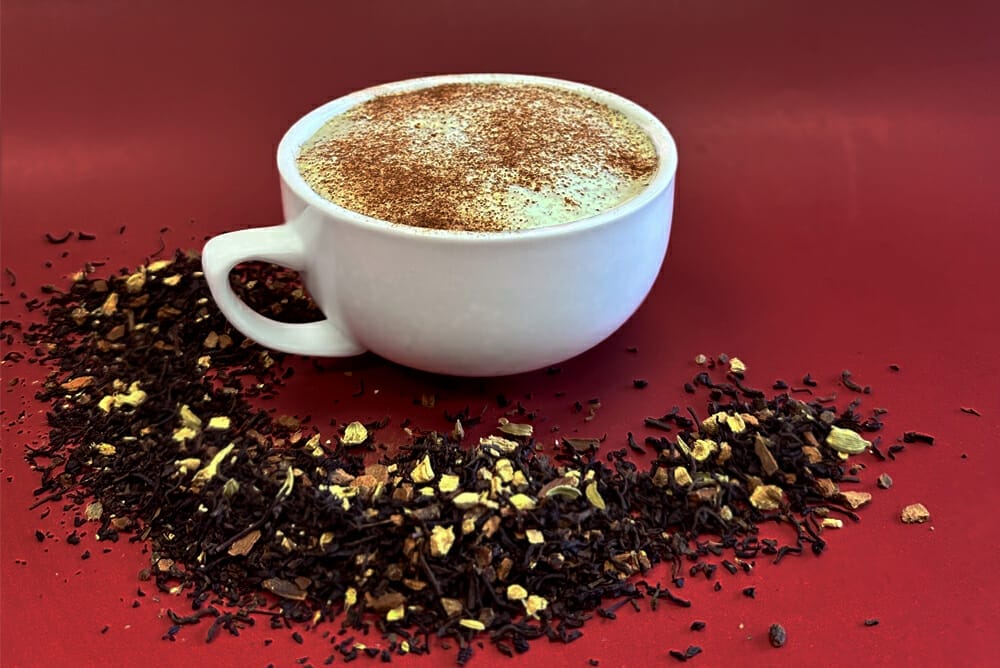 Ingredients:
2 oz water
3g Royal Tea New York Pumpkin Spice Puer
1 shot espresso
1oz Pumpkin Spice Syrup
8oz frothed milk
Hot honey, to taste
Instructions:
Steep Pumpkin Spice Puer in 195°F water for 5 minutes.
Drip hot honey along the inside of a cup.
Combine brewed tea, espresso, and syrup in the cup. Top with frothed milk and enjoy!
Pumpkin Spice Float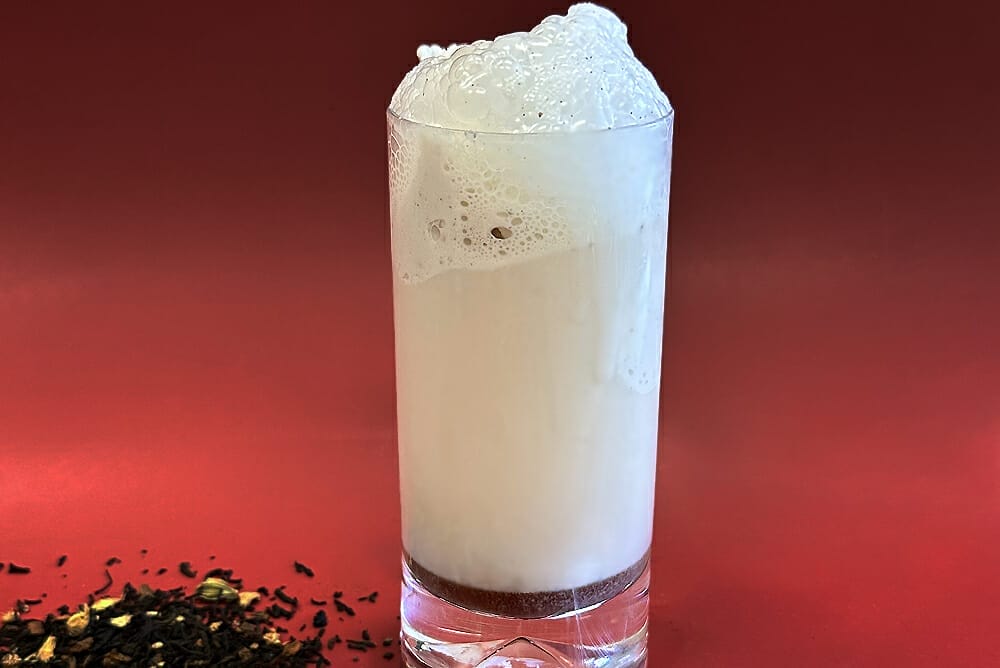 Ingredients:
12 oz seltzer (we used a vanilla flavored one!)
2 scoops vanilla ice cream
1 – 2oz Pumpkin Spice Syrup
Instructions:
Drizzle syrup inside a tall glass.
Scoop ice cream into glass. Add seltzer and top with more syrup if desired for the perfect bridge from summer to fall!
Pumpkin Spice Tea Loaf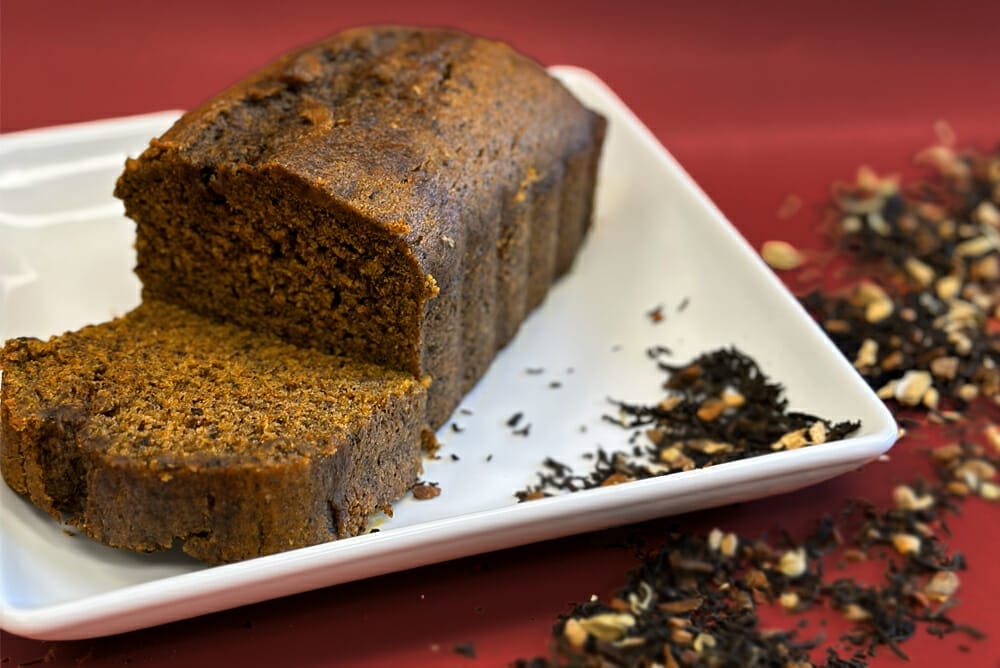 Ingredients:
4 – 8g Royal Tea New York Pumpkin Spice Puer, ground
1 cup all-purpose flour
½ tsp baking soda
¼ tsp baking powder
1 cup sugar
1 egg
8oz pumpkin puree
¼ tsp salt
6tbsp unsalted butter, room temperature
Instructions:
Preheat oven to 325°F and grease an 8×4 inch loaf pan.
Use a spice or coffee grinder to grind Pumpkin Spice Puer into a powder.
Combine flour, salt, baking soda, baking powder, and ground Pumpkin Spice Puer in a bowl.
Beat butter and sugar until combined, then beat in egg until light and fluffy. Beat in pumpkin puree.
Add dry ingredients to wet ingredients and mix until combined.
Pour batter into loaf pan and bake for 65 minutes.
Optional: Before serving, spoon over Pumpkin Spice Syrup to moisten and sweeten.