This October, RNY's James Schoenhut and Joe Borg traveled to Sumatra, Java, and Bali! In this first half of our two-part Indonesia origin series, James shares how they visited Indonesian coffee farms, met with producers, and learned a lot about growing practices in Java and Bali.
An Introduction to Indonesian Coffee
Every place we visited provided a unique experience, though some practices were seen repeatedly throughout our travels. For example, many Indonesian coffee mills accept coffee from producers in three main forms: Asalan (green, unsorted & ungraded), wet parchment, or cherry. That being said, we did encounter the few with stricter reception policies!
We were also surprised by the array of processing methods. While giling basah (wet-hulled) was once the only method, natural, anaerobic, carbonic maceration, and honey processes are now in play at many of the stops we made.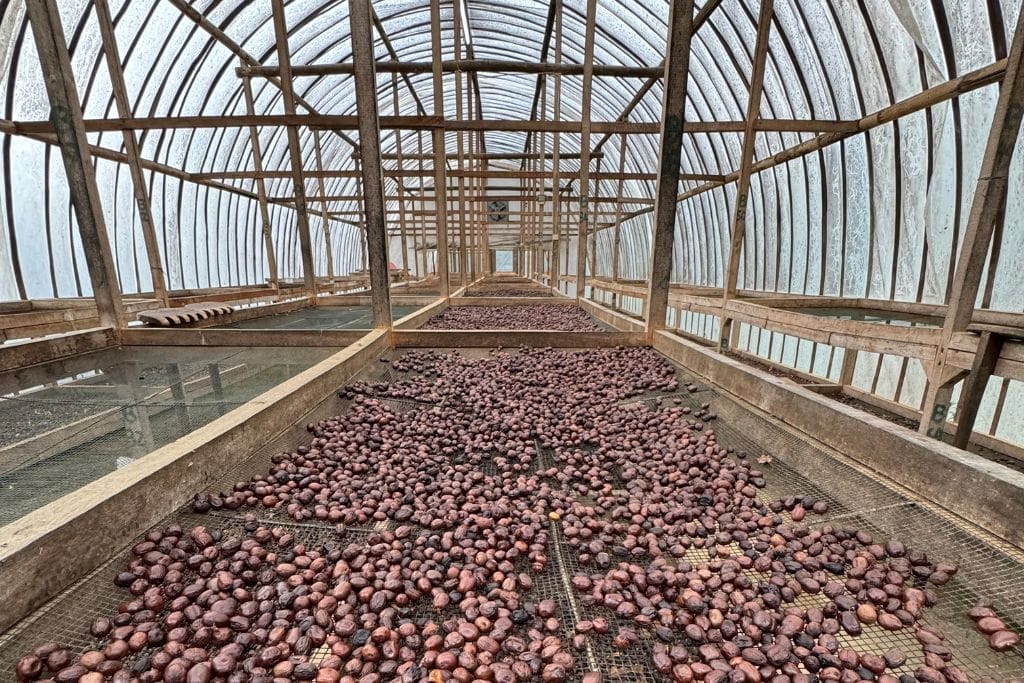 Lastly, as you'll later read about our time in Bali, it is clear that both coffee and orange production drives the cash flow for many producers and groups we visited. In fact, we encountered many farms that have both coffee and oranges planted side by side.
Our travels were incredibly informative, and we look forward to sharing all that we learned.
Indonesian Coffee: Java

DAY ONE
After departing Sumatra, we flew to Java and arrived at Banyuwangi airport in East Java. The weather was fairly overcast, though there wasn't nearly as much precipitation as we experienced in Sumatra. As Java is south of the equator, the main harvest happens April through August, whereas Sumatra's harvest is October/November through March. However, with global climate volatility, it seems that traditional harvest months are constantly changing.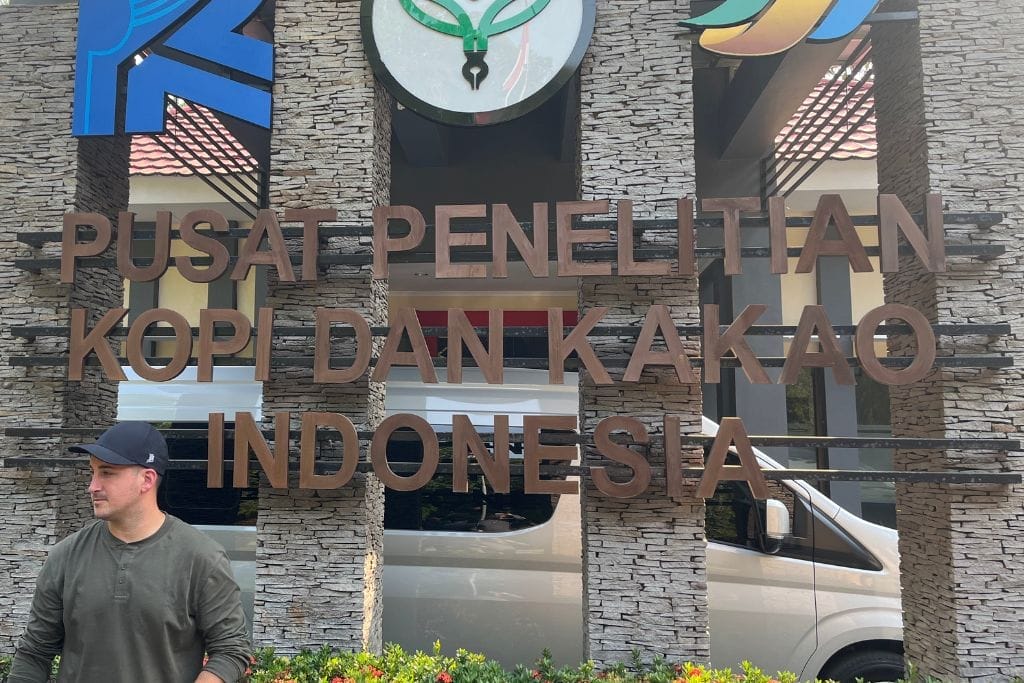 Our first stop was the Coffee and Cocoa Institute in Jember, the acting epicenter of farmer innovation and technical assistance for all of Indonesia. It was formed by the Dutch in 1911 and has been a valuable backstop for the Indonesian coffee & cocoa industry ever since. In fact, many of the growers we encountered throughout our trip spoke of how the institute has helped them and their neighbors in a variety of ways, from providing disease-resistant seeds to proper training to coffee millers.
We weren't entirely sure how the institute was directly funded, but there were clearly subsidies available to aid growers when they are lacking in financial resources. As in most producing countries, it seemed that shared information from neighboring farms is always invaluable.
DAY TWO
Following our stop at the institute, we traveled 3 hours north to Situbondo. We visited the Organic Farm group that produces our Organic Kayumas Taman Dadar, the name of which derives from its village. Interestingly, "Kayumas" means "gold," and "Taman Dadar" means "flower garden."
Upon our arrival, we were greeted by Wajaya, Cindy, and Danny: the manager, treasurer, and secretary, respectively. They represented Koperasi Serba Usaha, a 150-member strong group that has been working with our friends at Indokom since 2015. A cooperative comprised of 40% women and 60% men, all members work together during the harvest and throughout the course of the year. Wajaya explained that as the harvest begins, some members may be busy while others aren't yet ready to pick coffee. This is where the group shows its collaborative nature: "one's success is everyone's success."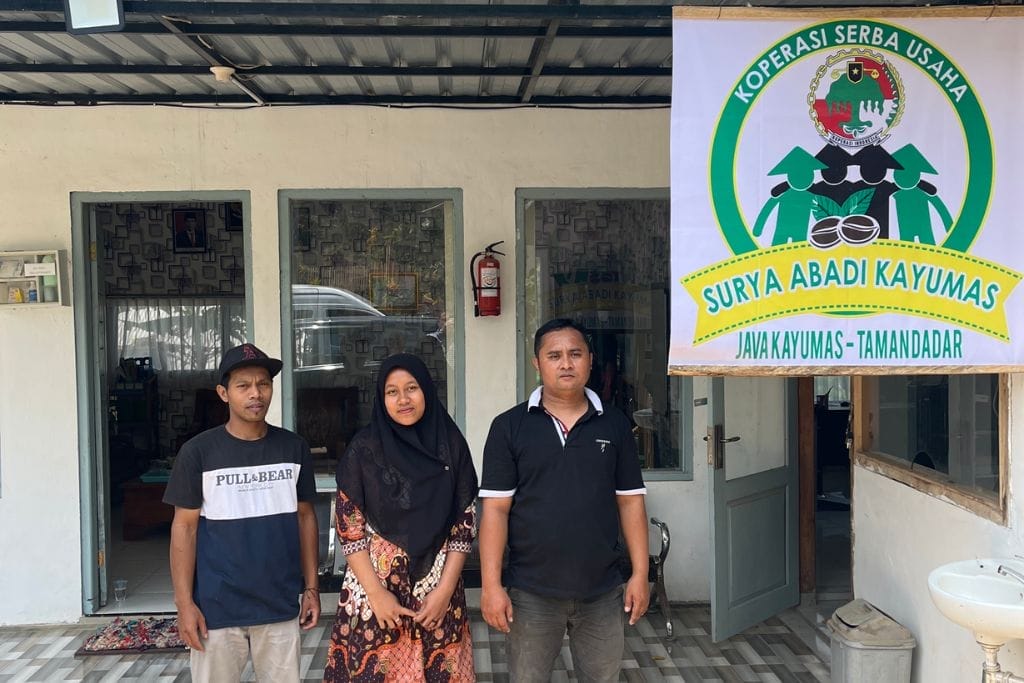 Production at Koperasi Serba Usaha
While we were there, we learned a lot about the co-op. Their production altitude is 1,000 to 1,500masl, and their low altitude farmers receive the same return as higher altitude members. Harvest season is April through August with 4 to 5 pickings during the course of a crop. They currently yield 700kg of green coffee per hectare, with total group production covering 380 hectares and averaging 2 hectares per member. Recently, the cooperative planted Gayo 1, Komatsi, and Sijaraudang seedlings that have strong climate resistance. Eventually, they hope to increase production to 1,200+kg per hectare!
Wajaya shared that they only accept red cherry from their members as individually processed fruit and Asalan are delivered to the central mill. Once received, they wet hull the cherries and allow them to ferment for 24 hours. They then deliver wet parchment an hour way to Indokom Mill at 40%+/- moisture.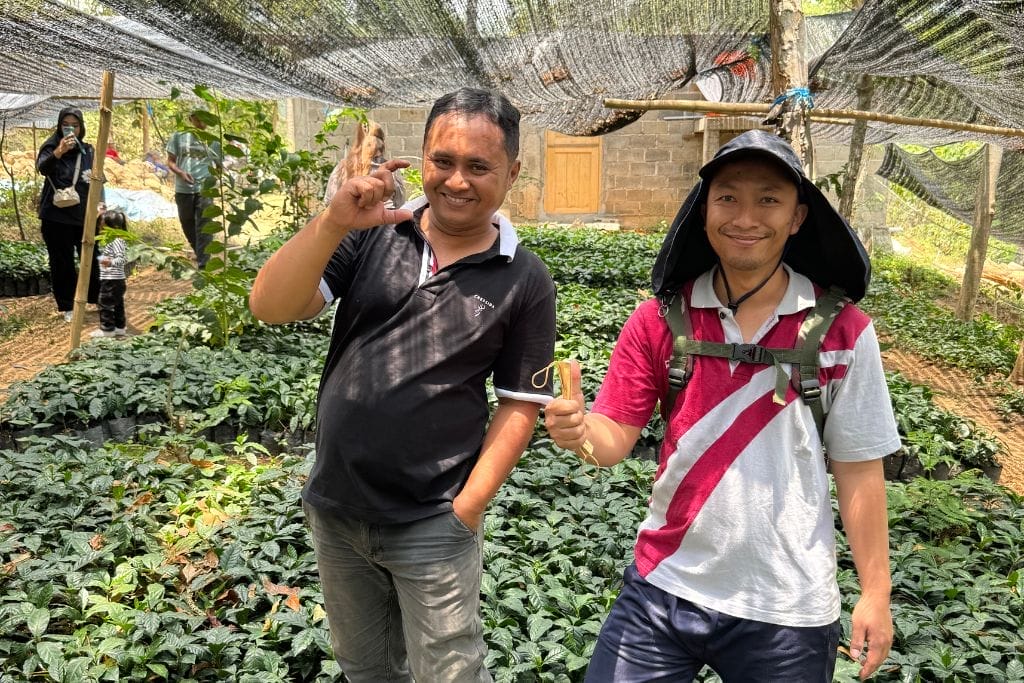 The farm hopes to sell more of their production as Fair Trade & Organic (FTO) certified coffee. FTO premiums would go towards better roads, adolescent education, health care, and improving living conditions.
As we concluded our time with them, we asked how they look after the older members of the group. Cindy responded, "Our culture is a wheel where young farmers take care of older members." They have great coffee and a great vision for their members.
Indonesian Coffee: Bali

DAY ONE
Having wrapped up our time in Java, we headed east to Banyuwangi. After a 5-hour ride to Bali in completely dead-stop traffic, we arrived hungry, tired, and thirsty at midnight. We were welcomed with local pizza delivery that featured a "tuna lovers" pie. While it was certainly an acquired taste, it was food, and the beer was cold!
The next morning, we jumped on a nearby ferry to west Bali. Of the three islands we visited, Bali seemed to have the perfect mix of sun and precipitation. Even though we didn't encounter much rain, the trees seemed lush and healthy. What we did encounter was a good amount of macaque monkeys looking for fruit treats on the road from anyone willing to oblige them.
Pelage Organic Farm & Mill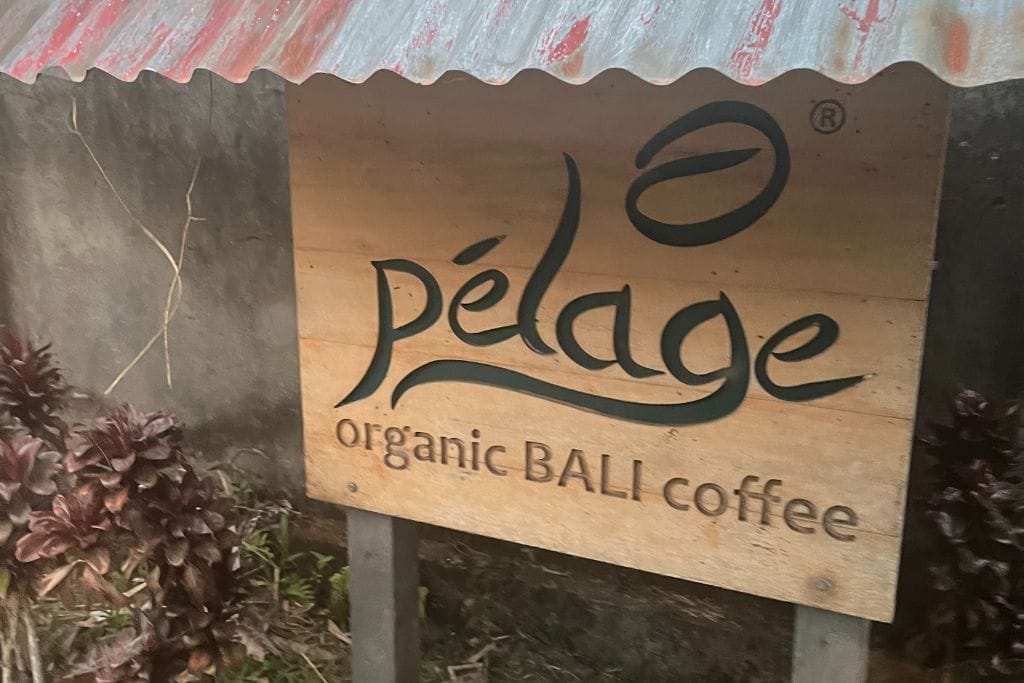 First, we stopped south of Catur at the Pelage Organic Farm & Mill (Badung Regency) in the Kintamani region. The town of Pelage was just northeast of the Danau Beratan (Beratan Lake) at 4,040 masl. We were greeted by Halima; she's been overseeing their coffee operation since her husband, Latif, passed away four years ago. A woman of German decent, she emigrated to Bali forty-three years ago, though she started working with coffee just ten years ago.
At Pelage, Halima clearly runs a tight ship. We witnessed hand-sorting that represented the end of the crop, and the mill and solar drying facility were immaculate. Interestingly, they would process organic coffee from their own farm production as well as that of neighboring farms. When we asked how they receive neighboring farms' coffee, Halima was adamant that they only accept red cherry and discount deliveries with unripe.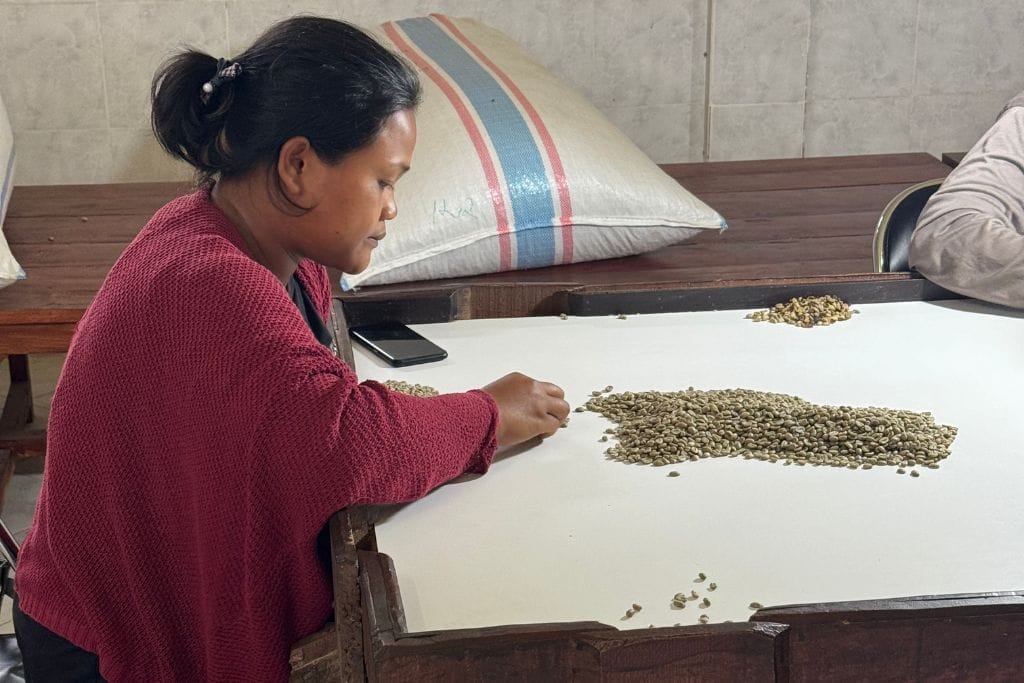 We have yet to cup and purchase Halima's coffee. However, after seeing her operation and management of the mill, we look forward to receiving offers of her wet-hulled and natural processed offerings from next year's crop.
Belantih Farm and Mill
Later that day, we moved northeast to the Belantih Farm and Mill in the town of Kintamani (Bandi Regency) at 3,850masl. The owner, Wayan, greeted us upon our arrival. He was a young and energetic man that was eager to tell us about his operation. Initially, Wayan's grandfather began the farm in 1964. While they were more familiar with orange production and were new to growing coffee, they persevered. Unfortunately, when the 3rd generation took over, they decided to cut down the coffee trees and solely produce oranges. It wasn't until 2016 that Wayan was able to reintroduce coffee production to the farm.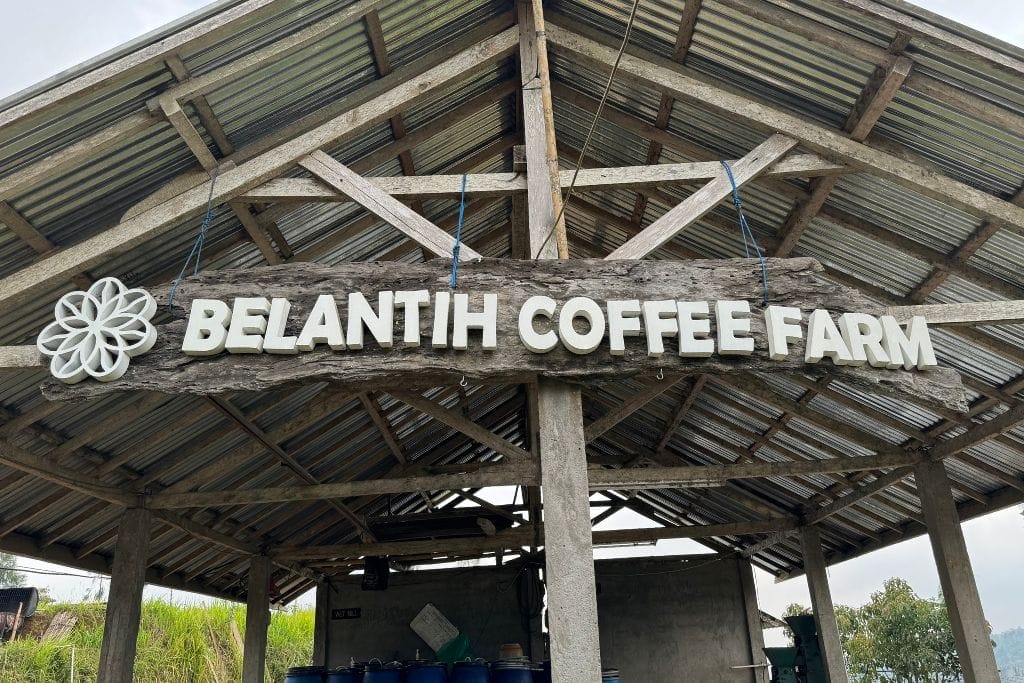 As he walked us through the farm, Wayan spoke of how passionate he was about growing coffee in Kintamani. Although they're not certified organic, he explained that they practice many of the principles of organic farming. Wayan made a lot of changes to the operation, and it was clear that he had to sell a lot of his innovations to the older generations of his family. His tactics obviously worked as the farm introduced a mill in 2016 to process their own coffee. Now, it's grown into a diverse mill that produces giling basah, natural, anaerobic, and washed offerings from the Catuai and Kopyol trees. It was actually one of the few operations we saw where wet-hulling wasn't the primary process. Things sure have changed in Bali over just a few years!
Picking Practices & Cupping at Belantih
When we asked Wayan if pickers know to select ripe cherry during the harvest, he shared something very interesting. First, he said that women are the best pickers as men become easily distracted and aren't nearly as productive. Then, he added that he provides all women on the farm with free manicures! Of course, I had to ask why. Wayan explained that painting their nails the color of ripe cherries was an effective way to ensure they would harvest just the ripes!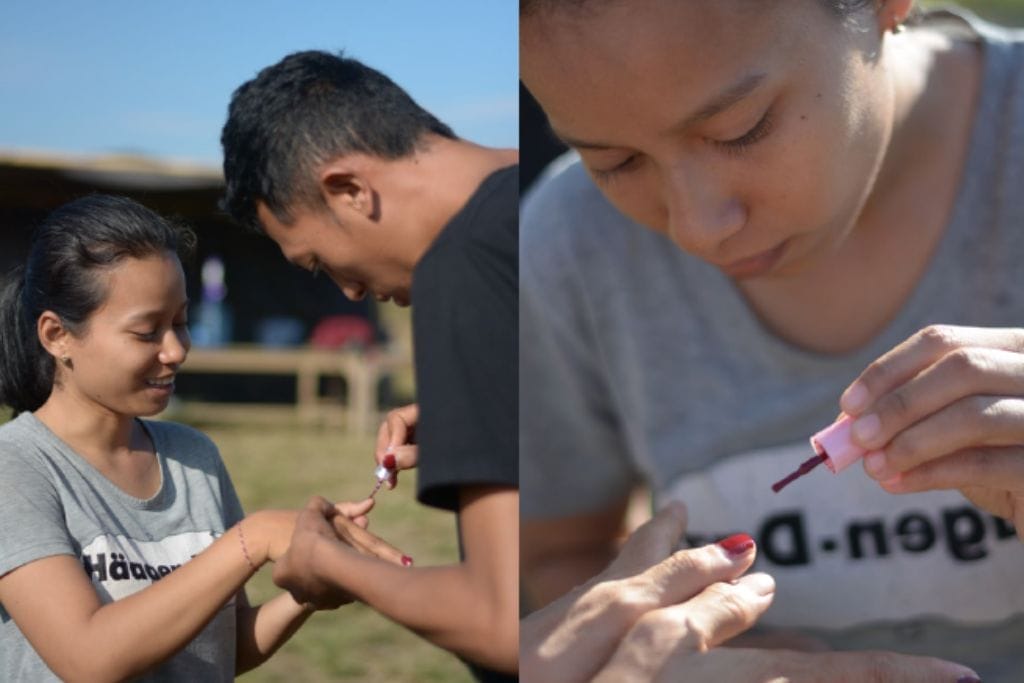 The last of our time at Belantih was spent taking the opportunity to cup some of their natural, honey, and washed anaerobic offerings from their Q-certified processing mill. They all had varying degrees of citrus, peach, watermelon, brown sugar, and chocolate undertones. We then learned that Wayan and his partner, Putu, had launched a retail and roastery called "The Farmer Brew." Both operations survived the pandemic and are now thriving. I guess it's safe to say that they're more excited about their coffee production these days than their orange!
Although the main crop is finished, we hope to see some fly-crop production in the next couple of months. If not, we plan to pursue their offerings come next spring.
DAY TWO
Our final visit in Bali took us west of Kintamani and Pelage to Wanagiri, a town which sits alongside Lake Buyan. Here, we spent time with one of the Indokom partner groups at the Leket Sari mill. This mill is one of four in the Kintamani region that Indokom has assisted in Bali since 2010. Furthermore, these mills situated between Wanagiri and Kintamani produce our Bali Blue Moon wet hulled and Kintamani natural offerings. Availability from this crop is winding down, so get some before it's all gone!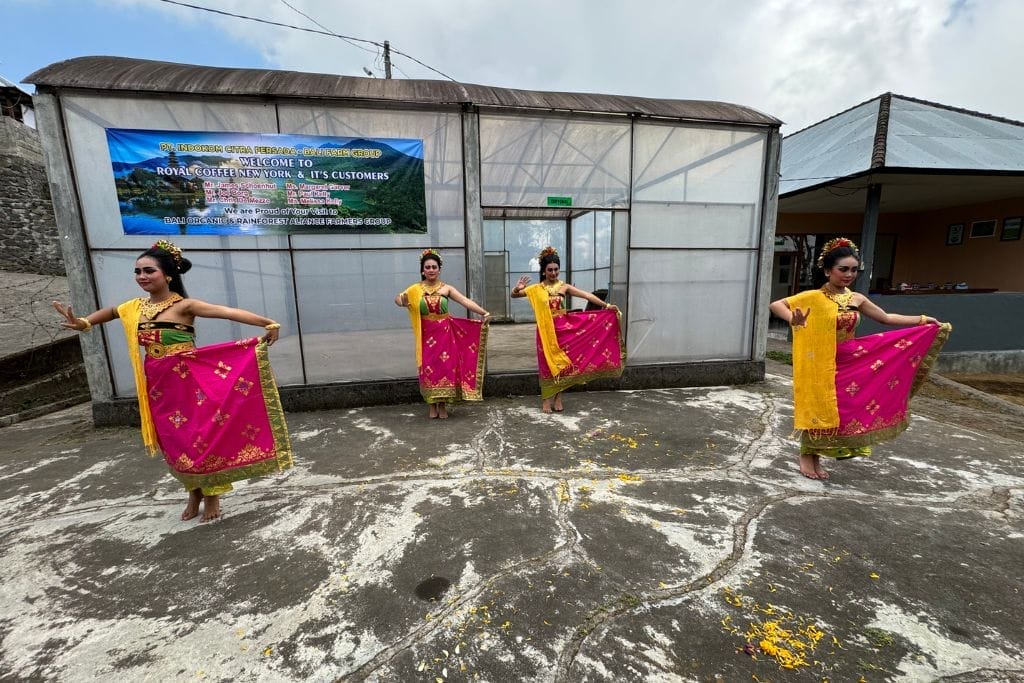 Indonesia is rich with culture and rituals, and it seemed that even at a coffee mill we were never simply greeted. That being said, it was here where we enjoyed music and a beautiful dance by the women of Wanagiri. In all honesty, it was a humbling experience that I can only explain as one of the many ways our hosts celebrated our arrival and made us feel truly welcome.
Indokom has supported the efforts of these growers both financially and technically for the last thirteen years. During this time, they have partnered with 198 farmers that are behind their Bali production, and another 60 will join next year. Our Indokom host, Dhani, explained how the members of their farmer groups act during harvest season. If one farm is ready for harvest and another is not, the groups will work together. This is a common theme of the culture here and speaks to the strength of the farmer groups. Among many things, Indokom is instrumental in providing proper seedlings, fertilizer, and education to the farmers.
We look forward to what the next crop will bring in Bali and with Indonesian coffee as a whole, as we encountered innovation, a strong youth movement, and an overall excitement with quality and sustainability.