The greatest pleasure of working in the coffee industry is the wide range of exciting people you meet. That and the interesting stories they often have to tell. On my recent trip to Medellin, Colombia, I had the opportunity to sit with someone I consider to be a Colombian coffee icon, Pedro Echavarria Sr., or "Don Pedro".
Don Pedro's family has been involved in the Colombian coffee business for over four generations. This history has provided him with a tremendous amount of wisdom to share, and thankfully for me, the desire to share it.
I met Don Pedro 12 years ago on my first visit to Colombia. Don Pedro is the father of our friend and long-term partner, Pedro Echavarria from Pergamino Cafe. At the time we met, we had just received the second delivery of coffee from their family farm, the Santa Barbara Estate. This was the farm Don Pedro bought as a passion project in the '70s. It was a place for him to rest, connect with heritage, and spend time away from his career in the city.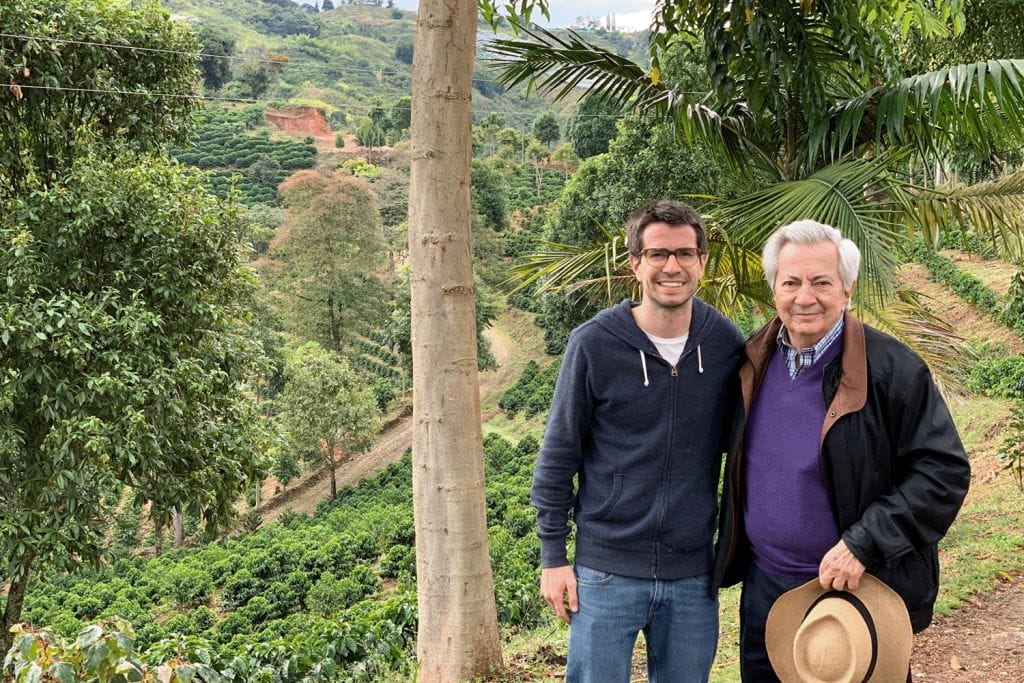 Even before his purchase of Santa Barbara Estate, coffee has always been in the Echavarria family. Their family, like many others from the Department of Antioquia, has a rich history in coffee. This history spans multiple generations, different scales of production, and nearly every job within the industry.
However, for Don Pedro, it was not enough to grow coffee and sell to local exporters or the internal market. He had a dream of better quality and direct relationships. Don Pedro wanted to offer his coffee directly to the international market. Unfortunately the reality of Colombia at that time imposed significant challenges to the realization of that vision.
Challenges of Colombian Coffee in the 90's
In the '90s, Medellin was the center of drug gang violence. Pablo Escobar challenged the government of Colombia in Bogota and launched a terror campaign against civil society, starting with Medellin. Escobar started targeting members of the business community in Medellin to show the depth of his power, he was sending a message to the government. He wanted to impose fear, make life impossible, show the government what would happen if they tried to extradite him to the USA.
At this time, Don Pedro's coffee career was his passion but it was not his primary job. Outside of coffee, Don Pedro was a prominent member of the business community. One afternoon, like many other influential men from Colombia, he received reliable information that he and his family were on Escobar's "hit list". That night, Don Pedro and his wife Natalia put their three kids in a car and drove away from Medellin to Bogota. They settled in Bogota and couldn't return home for two years.
How Don Pedro Survived
During those two years, he traveled to Medellin to tend to his business, a necessity to support his family. However, to maintain his safety he had to travel in secret, changing cars and wearing a disguise. The drug violence forced an honest man to live like a fugitive.
After a few years there was the fall of Escobar, Don Pedro and his family returned to Medellin. They were ready to retake their life and their coffee project, but again, the reality of Colombia imposed itself.
The FARC Colombia Guerilla Group expanded its control to large areas of the country as a part of the peace negotiations with the government. However, the Guerrillas used the time of "peace" to expand their power and wealth thru an extortion and blackmail campaign, many of them aimed at farming communities. They seized land, assets, and crops, Santa Barbara Estate was once again impossible to visit and care for.
Don Pedro could not visit his beloved farm for years. During this time he relied on his friends the loyal employees of Santa Barbara who took care of the farm as if it were their own.
Getting back to the farm
By the early 2000s, the security in Colombia improved. The government pushed the Guerrillas away from Santa Barbara. Don Pedro took that opportunity to invest in tree renovation and infrastructure both on the farm and the local community. He built roads, schools, and housing for permanent and seasonal farmworkers.
By the end of 2009 the farm was ready for the next stage and this time a big help was coming. Pedro Miguel, his youngest son, just returned from studying abroad and was eager to be part of his father's vision. Shortly after joining the family business, Don Pedro quickly realized his son had many good ideas of his own.
The family invested in a dry mill plant, even when many friends told Don Pedro that he was crazy for doing it. It was a high-risk financial investment but he admitted, with a smile, that he is crazy about coffee. Then, finally, they were ready to export their own coffee from their own mill. Santa Barbara Estate was officially selling directly to the international market, Dream Achieved!
Enter Pedro Jr. and a new generation for Colombian Coffee
Pedro Jr. got into the action, recruiting an outstanding quality control team, making cold calls to importers in USA and Europe, managing the farm, milling operation, even sealing coffee bags at the new plant.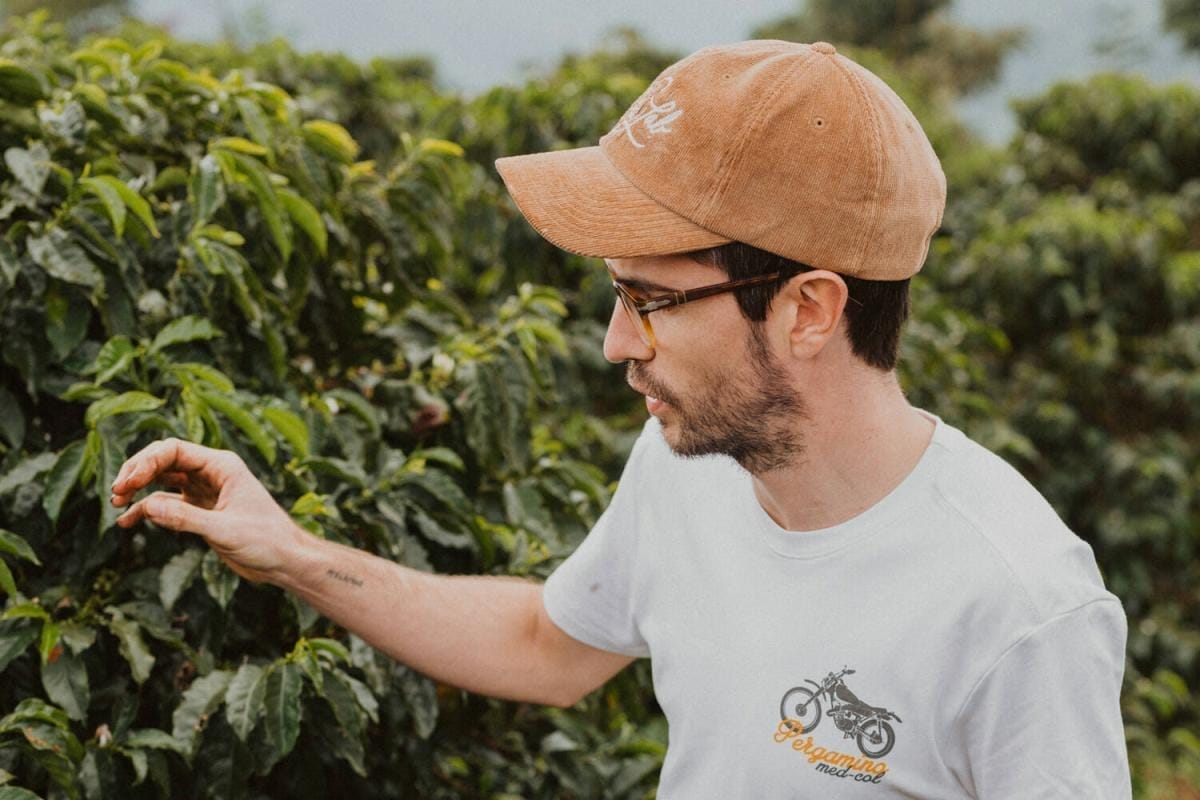 Twelve years forward, Santa Barbara Estate and The Pergamino Dry Mill is a reputable name in the Specialty Industry.
The Pergamino Dry Mill operation is exporting coffee, not for only Don Pedro's farm, but hundreds of small coffee producers in Narino, Cauca, and Antioquia. What the Echavarria family has done for themselves, they are now doing for many other small producers. They've created access to international markets that pay higher premiums, thus building a rural middle class of coffee growers on a partnership business model. Read more about the impact here.
Don Pedro told me that the first time he saw his farm's name in a bag of coffee in the USA market, tears came to his eyes. He enjoyed seeing how the new generation carried on producing coffee and the endless innovations of the Specialty Industry.
A King of Colombian Coffee
Don Pedro is now in his 70s, a sharp dresser with a sharper mind. Sitting with him is like being in the presence of a King. Not because he thinks of himself as a nobleman, but because his character and demeanor fill the room with a high sense of dignity and respect.
He is a great host, and his down-to-earth charisma makes you feel at home with family.
And that's the way he approaches life, treating every person with respect and dignity. He tells me that's an excellent way to build a business and a name. More important than money is making a good name. "With that, you can always get up from any challenge in life and start again."
After meeting with Don Pedro, I returned home, re-energized, and committed to working in this fantastic industry.
His commitment and passion remind me that there were hard times before we arrived, and we will overcome them because we are standing on the shoulders of giants, the Don Pedro's of the world.